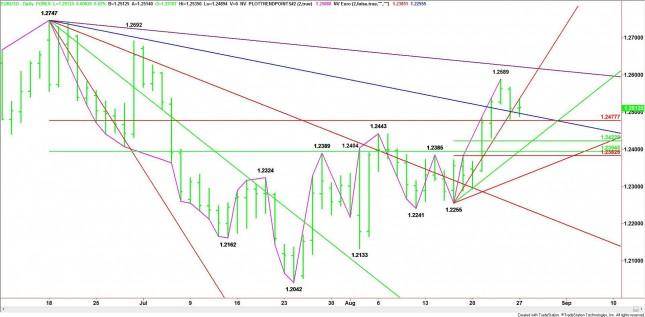 The activity is light today in the EUR/USD market as traders take a break ahead of this week's central bankers' meeting at Jackson Hole and next week's European Central Bank meeting. Last week's surge to the upside reaffirmed the uptrend on the daily chart while slowly attempting to dismantle the well-established downtrend on the weekly chart.
Looking at the daily chart from June to July calls attention to the 1.2747 to 1.2042 main range and its retracement zone at 1.2478 to 1.2394. With the Euro currently working lower because of short-term overbought conditions, it is possible that we are going to see further weakness into this zone. A move into the 61.8% to 50% zone will mean that traders are indecisive about the near-term direction of the Euro.
In addition to the bigger time frame, the short-term rally from 1.2255 to 1.2589 should also be watched for a near-term retracement. This range has created a 50% to 61.8% retracement zone at 1.2422 to 1.2383. Since this zone overlaps 1.2394, a cluster has been created which could form solid support if tested.
Uptrending Gann angles could also be offering clues as to the market's short-term direction. The first important Gann angle is at 1.2535 today. Monday's action took out this angle, putting it in a weak or short-term bearish position. Typically, this type of move indicates the Euro will rotate to the next uptrending Gann angle which is at 1.2395 today and moves up .002 per day. On August 28 to August 29, this angle crosses the 50% retracement price at 1.2422, making it a significant price target during that time period.
At the mid-session, the Euro is trading inside of Friday's range. Holding this tight trading range indicates impending volatility. With the daily chart indicating room to the downside, traders shouldn't be surprised if the EUR/USD experiences a sharp 1 to 2 day break between Tuesday and Wednesday.