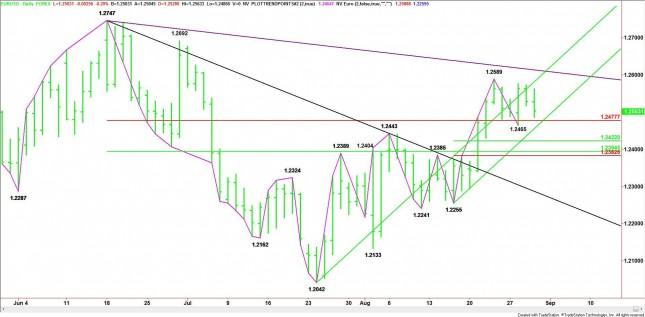 A flight to the safety of the U.S. Dollar is putting pressure on equity markets and the Euro at the mid-session. Although the EUR/USD is still holding Tuesday's low at 1.2465, the weak close on strong momentum suggests a growing downward bias. Fear that Federal Reserve Chairman Ben Bernanke is going to crush hopes of additional quantitative easing in his speech Friday morning is the catalyst behind today's weakness.
Looking at the daily EUR/USD chart, one has to conclude that the main trend is up and that today's sell-off is more corrective in nature rather than trend changing. This is because the nearest swing bottom is way down at 1.2255. This price represents the change in trend price on the daily chart. This doesn't mean the market can't accelerate to the downside from current levels. Based on the short-term range of 1.2255 to 1.2589, a potential downside target exists at the retracement zone of 1.2422 to 1.2383.
Further technical analysis indicates that the major range of 1.2747 to 1.2042 has created a retracement zone target at 1.2478 to 1.2394. Earlier this month, this zone acted as a pivot price with the Euro gaining strength against the dollar on the way through it. Falling inside of this zone will not mean the trend is turning down, but it will be the first sign that the uptrend is weakening. Camping out inside of this zone will mean that investors are still uncertain of the European Central Bank's or the Fed's next quantitative decision.
Another bullish case for the EUR/USD is the fact that it is trading inside of an uptrending channel. This chart pattern is providing both direction and strength for the Euro. Today, the upside level of the channel is at 1.2582 while the support line is at 1.2455. The latter is most important because a break through this line will mean that the market has also taken out a Fibonacci level at 1.2478 and the low of the week at 1.2465. Since traders like to hide stops under these levels, a break through the lower end of the channel is likely to trigger an acceleration to the downside.
A breakout to the upside is likely to run into resistance at 1.2615, while a wash-out to the downside is likely to become attractive to buyers in the 1.2465 to 1.2422 or 1.2394 to 1.2383 ranges. Bernanke talks at 9 am EST on Friday. Traders should prepare for increased volatility.