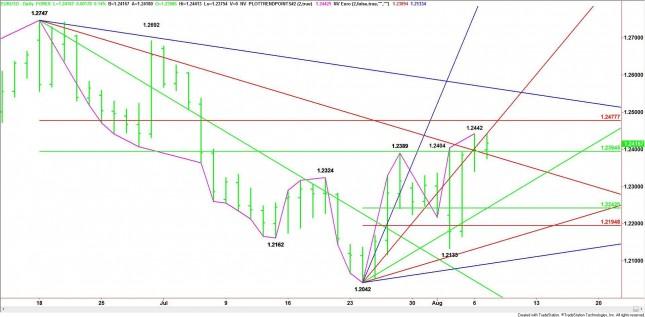 The EUR/USD is trading better despite a low volume, low volatility trading session. Today's trading action is inside of yesterday's range. This indicates trader indecision and often leads to volatility once either end of the range is violated.
On the upside, the key number to watch today is 1.2442. A move through this level could trigger a further rally to a Fibonacci retracement line at 1.2478. Weakness could be triggered on a trade through 1.2341. Standing in the way of this level is a 50 percent price level at 1.2394. This price should act like a pivot with the market gaining strength above it and weakening below it. With the main trend up on the daily chart and the market above the 50 percent price, we can conclude there is a strong bias to the upside.
Speculators have been driving the Euro higher since European Central Bank President Mario Draghi vowed to do "whatever it takes" to preserve the Euro over two weeks ago. His comments actually stopped the break and triggered a short-covering rally, but recent action suggests that buyers may have stepped in on recent breaks. Further analysis suggests that with so many shorts driven out of the market recently, further upside action is likely to be a grind.
This morning Germany reported a steeper-than-expected 1.7% drop in German factory orders in June. This helped weaken the Euro a little earlier in the session, but the market eventually recovered its intraday setback. Italy also reported another quarterly contraction, but this was a little better-than-expected.
Although speculation that the European Central Bank is gearing up for another round of bond buying in Spain and Italy has been driving the EUR/USD higher, today's action suggests that in order to reach a new higher price level, speculators want to see more definitive action by the central bank.  Investors want to see if Spain taps the European rescue fund. This would be the first sign that it is getting serious about shoring up its finances. Once this is done then the ECB is likely to begin its bond purchasing program with the sole intention of bringing down the short-term debt.
While this is the plan that is supporting the EUR/USD at this time, unless there is more clear activity soon, speculators will begin to grow uncertain about the upside potential of the Euro and the market could begin another short-term correction.