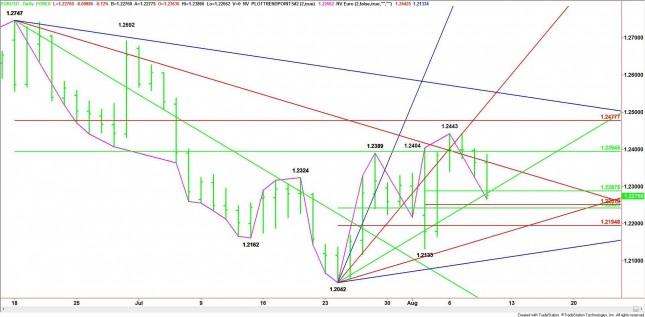 Concerns about Europe's finances are at the forefront once again at the mid-session as traders are now expressing doubt the European Central Bank and the U.S. Federal Reserve will act fast enough to avert another crisis. This thought was fueled by an ECB survey that showed that economists had cut the Euro Zone's 2013 growth forecast to 0.6 percent from 1 percent.
As early as Monday, the two week EUR/USD rally was already showing signs of deflating when it started to stall at 1.2443. Today's action represents an expanded range to the downside following two days of compressed trading. The sharp break isn't coming as a surprise to many traders who believe the first rally from 1.2042 to 1.2443 was triggered by massive short-covering as these traders liquidated their positions on the thought that ECB President Draghi was set to standby his pledge to do "whatever it takes to preserve the Euro."
After the shorts came out of the market, bullish traders were asked to pay up for the Euro in order to keep the rally moving forward, but fresh buying failed to show up as the market had reached a major retracement zone at 1.2394 to 1.2478. In other words, the Euro was no longer looked at as a bargain versus the dollar.
The main trend is still up on the daily chart because of the higher-top, higher-bottom formation. Based on the short-term range of 1.2133 to 1.2443, the Euro is currently in the midst of a corrective move into a retracement zone at 1.2287 to 1.2251. The first sign of weakness today is the penetration of the upper level of this zone or 50% retracement level and an uptrending Gann angle at 1.2282.
If you're following the two-week range of 1.2042 to 1.2443, then your downside target is 1.2242 to 1.2195. The combination of the two retracement zones creates a support cluster at 1.2251 to 1.2242. Since the main trend is up and traders are looking for value, this support area may prove to be attractive to bullish traders.
With the ECB and the Fed providing no reasons to believe that stimulus is imminent, the daily chart pattern is suggesting further downside pressure over the near-term. Since it is assumed that traders are not willing to chase this market higher until the fundamentals become clearer, look for the EUR/USD to test the key support cluster before generating any buying interest.