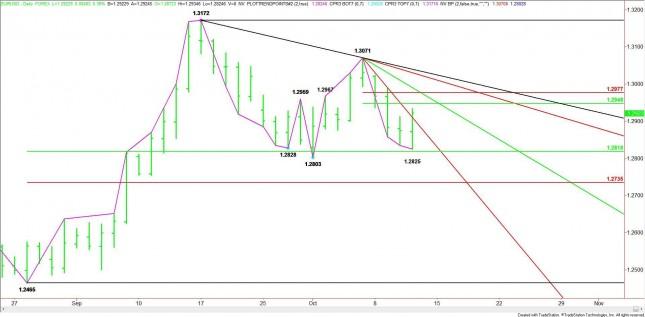 The EUR/USD held a test of a key 50% level at 1.2818 once again, triggering a strong short-covering rally that has the market trading near its high at the mid-session. Beside the 50% level, the market also held the October 1 bottom at 1.2803, proving that investors were willing to defend this area.
Another test of a mid-point of the 1.2465 to 1.3172 range indicates that the Euro is range bound against the dollar. This ties in nicely with the fundamentals which are causing uncertainty. One of the main reasons for the sideways trade is the inability by Spain to make a decision regarding financial aid from the European Central Bank. The inability to break the EUR/USD beyond the 50% level suggests that investors are leaning toward a resolution over the near-term. If talks were to completely fall apart then the Euro would fall sharply against the dollar. The trigger point for this break would be the 1.2818 price level.
On the upside, the EUR/USD is showing strength at the mid-session by its penetration of the downtrending Gann angle at 1.2911. A sustained move through this angle will mean a test of 1.2991 is likely over the near-term. Longer-term traders should note the trend line breakout area near 1.3040.
The short-term range is 1.3071 to 1.2825. The retracement zone created by this range is 1.2818 to 1.2735. This could be tested today if upside momentum continues.