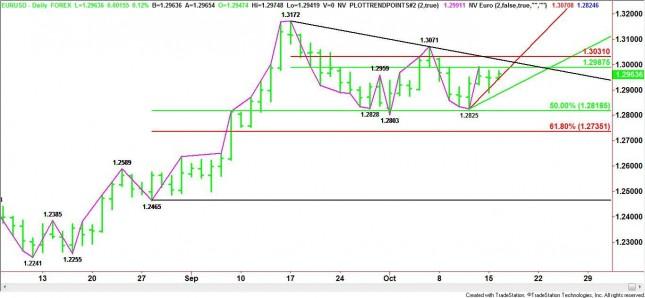 The EUR/USD is up sharply at the mid-session, buoyed by reports that Spain was getting ready to make a formal request for financial aid from the European Union. This action would open the door to additional help from the European Central Bank in the form of a bond purchasing program. Today's trading activity suggests that investors could be ready to take the currency pair to a new level now that the sideways logjam that has held the market in check for about a month is dissipating. 
Today's action is all about momentum. Investors are buying the Euro with conviction and shorts are covering feverishly as the clarity offered by Spain's decision is giving them the confidence they need to drive the market higher. 
The first technical level to go this morning was the 50% price at 1.2987. This was followed by a downtrend line at 1.3020 and a Fibonacci level at 1.3031. Each breakout move was supported by strong buying which generated the momentum needed to plow through the listed price levels. 
The fast movement triggered a spike-like breakout. Now that the EUR/USD has overcome several resistance barriers, these levels should become support. Additionally, uptrending Gann angle support is at 1.2945 to 1.2885. These angles move up .004 and .002 each day respectively. The combination of the fast moving Gann line and the down-sloping trendline cross at 1.3011 and 1.3025 on October 18, making this zone an important potential support level to watch. 
On the upside, the October 5 top at 1.3071 is the first upside target, followed by the September 17 top at 1.3172. Taking out 1.3071 will mean a new high for the month while a move through 1.3172 will signal a continuation of the rally which began in late July. It will also serve as a confirmation of the pledge by European Central Bank President Draghi to all he can to preserve the Euro.