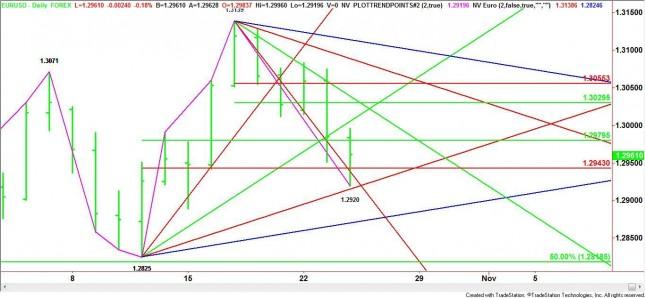 The EUR/USD is trading weaker at the mid-session, but not quite as low as it was earlier in the session. Traders sold the single-currency against most major markets after a bearish outlook for the European economy was released. Speculation that Greece would get its next tranche of financial aid helped to stem the slide. 
The market sold off early in the session after it failed to hold uptrending Gann angle support at 1.3005. Additional selling pressure helped drive the market through the retracement zone at 1.2979 to 1.2943.  Last week it was suggested that a test of this retracement zone would attract fresh buying, but that wasn't the case this morning because of the strong downside momentum. 
After trading through the retracement zone and coming close to a test of an uptrending Gann angle at 1.2915, the EUR/USD reached a bottom at 1.2920. The subsequent rally helped the market regain a Fibonacci level at 1.2943, but renewed buying failed to materialize after the market pierced the 50% price level at 1.2979.
The swing chart indicates the main trend is up and will remain up unless the last swing bottom at 1.2825 is violated. If a bottom was reached today, then the new range is 1.3139 to 1.2920. This range creates a new retracement zone at 1.3029 to 1.3055 and a new potential upside target. Splitting this zone is a downtrending Gann angle at 1.3039. 
Angles and retracement levels will all converge near 1.3029 on Thursday. If this level stops the market then traders should watch for a potential reversal back to the downside. The formation of a new lower top when compared to 1.3139 will be a sign of lower prices to follow. 
Given the size of the range and the mixed fundamentals, it is possible that the EUR/USD is setting up for a prolonged sideways trade. This may create volatile trading conditions in terms of several direction changes without much price movement. Be prepared for a choppy trade unless a firm news event takes control of the market.