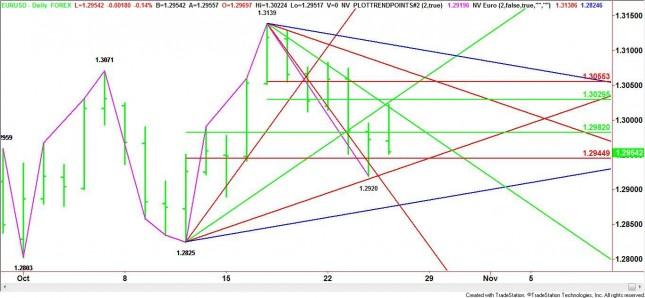 Mixed fundamental signals are once again playing with the minds of Euro traders. Early in the trading session, the EUR/USD appeared to be gearing up for a launch to the upside, but close to mid-session, the currency pair had reversed course. 
With very little fundamental guidance, traders have to rely on technical factors and they haven't been offering much help. Although the main trend is up, the minor trend is sideways as evidenced by the choppy, two-sided trade this week. At times, it seems that traders are content with holding the market in a range while allowing the market to "ping-pong" between to retracement zones. 
The main range is 1.2825 to 1.3139. This range has created a retracement zone at 1.3029 to 1.3056. The minor range is 1.3139 to 1.2920. The minor retracement zone is 1.2982 to 1.2945. Earlier in the week, the EUR/USD tested support three times inside the main retracement zone. This morning, the minor retracement zone proved to be key resistance. 
Shortly before the mid-session, the EUR/USD tested a pair of Gann angles at 1.3019 and 1.3025. Combined with the 50% retracement level at 1.3029, a resistance cluster or target was formed between 1.3019 and 1.3029. Today's high at 1.3022 fell inside of this cluster, encouraging profit-taking and fresh selling pressure. 
At the mid-session, the EUR/USD is testing retracement zone support and approaching an uptrending Gann angle at 1.2925. This area could provide support which may trigger a technical bounce, but if downside momentum remains strong then look for another test of this week's low at 1.2920.