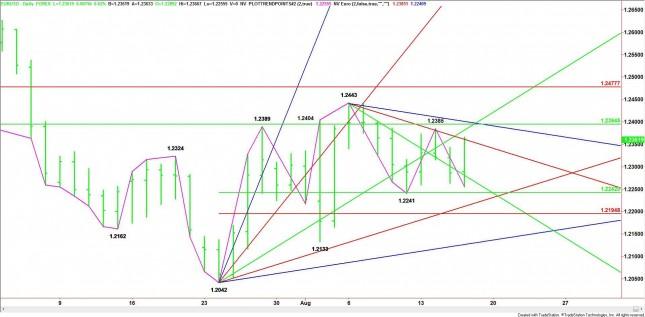 After a successful test of a 50% price level at 1.2242, and last week's low at 1.2241, the EUR/USD reversed to the upside, encouraging short traders to cover from 1.2256 to 1.2367. The strong rally stopped at a Gann angle at 1.2363 and shy of the week's high at 1.2385. Upside momentum appears to be building and the longer this market remains inside this range the greater the chance for a bullish breakout.
Two trading ranges are controlling the Euro at this time. The first is the long-term range created by the June 12 top at 1.2747 to the July 24 bottom at 1.2042. This range created a retracement zone at 1.2394 to 1.2478. A recent rally stopped inside of this retracement zone at 1.2443. The second, shorter-term range is 1.2042 to 1.2443. This range formed a retracement zone at 1.2242 to 1.2195. This zone provided key support last week at 1.2241 and today at 1.2256.
Additionally, the EUR/USD is trading inside of a triangle chart pattern formed by a pair of Gann angles. The support angle is at 1.2212 today and the resistance angle is a 1.2363. Conventional technical analysis has determined that the triangle chart pattern is a non-trending chart pattern. The gradual narrowing of the support and resistance lines is compressing the trading ranges, suggesting volatility and an impending breakout.
A breakout to the upside could be muted because of the 50% price level at 1.2394 and another slower-moving downtrending Gann angle at 1.2403. Additionally, because of the possibility of negative news out of Europe, traders may be reluctant to buy strength at this time. Supporting a breakout to the upside will be fresh news regarding additional stimulus from the U.S. Federal Reserve.
If both the European Central Bank and the Fed fail to come through with additional stimulus when called for, the Euro could drift lower and remain inside the main range, or accelerate to the downside through the retracement zone at 1.2242 to 1.2195, the old bottom at 1.2241 and the uptrending Gann angle at 1.2212.
Today is a "risk-on" day because weaker than expected U.S. economic data has encouraged traders to flee the U.S. Dollar in anticipation of fresh stimulus from the Fed sometime between now and December.