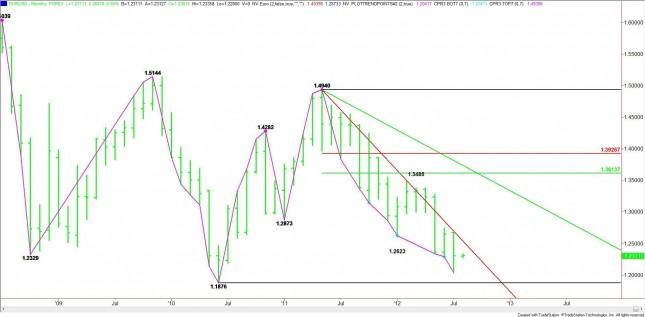 In July, the main trend continued down on the Monthly EUR/USD chart despite the closing price reversal bottom in June. This chart pattern failed to confirm and was negated when the market broke the June low at 1.2287. Although there was a late month rally in the Euro after reaching 1.2042, the up move fizzled and the currency pair closed lower for the month.
Since topping at 1.4940 in May 2011, the EUR/USD has been walking down a Gann angle moving lower at a rate of .016 per month. This puts the angle at 1.2540 in August. Not only has this angle been providing direction for the Euro, but it has also provided resistance. As long as the market remains under it, investors should look for lower markets to follow.
A breakout or close above the angle this month will be the first sign of strength for the Euro. If this move fails to materialize, then investors should look for the EUR/USD to continue down to the June 2010 bottom at 1.1876.
Concern that the sovereign debt crisis in Europe is worsening is one factor that is keeping pressure on the Euro. The best sign of problems is the rising interest rates in Spain and Italy. Higher borrowing costs in both of these countries could lead to the need for additional bailout requests. During July, European Central Bank President Mario Draghi stopped the break in the market when he vowed to do everything he could to preserve the Euro. However, shortly before the August 2 ECB policy meeting, it looked as if his pledge was meeting opposition. If he fails to deliver his promise then investors should look for a resumption of the downtrend.
Since the chart pattern suggests that the EUR/USD is still being controlled by strong-handed short-traders, investors should stay with the trend until there is a clearly defined shift in direction.