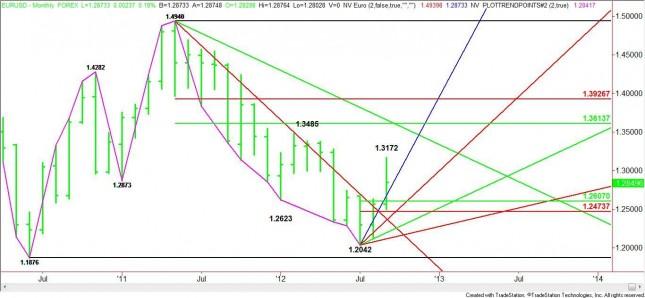 After breaking through a downtrending resistance line with conviction, the EUR/USD surged to the upside before reaching a high at 1.3172. Fresh stimulus from the European Central Bank and the U.S. Federal Reserve helped to drive the Euro higher versus the U.S. Dollar, but eventually the currency pair became overbought on the short-term charts as it approached a cluster of former resistance areas slightly above 1.3000. 
The monthly chart is still indicating the potential for upside expansion to 1.3580 – 1.3614 this month, but the weak close suggests the need for a test of support before making another attempt at a rally.
 A steep uptrending Gann angle at 1.3002 controlled the EUR/USD last month, but since the market fell below this at the close, the next level of support becomes 1.2522. Based on the two month rally from 1.2042 to 1.3172, traders should watch for a pullback into the retracement zone created by this range at 1.2607 to 1.2474.
 The combination of the uptrending Gann angle and the retracement zone creates an important support cluster and likely downside target this month. A test of this area is important because bullish traders want to see the formation of a secondary higher bottom. A formation of this kind will mean that fresh buyers are arriving to support the market.
 A failure to establish support between 1.2607 and 1.2474 will mean that the surge from 1.2042 to 1.3172 was merely a rally in a bear market. With concerns being raised once again about sovereign debt and forecasts of a recession, look for the EUR/USD to explore the downside initially in October.