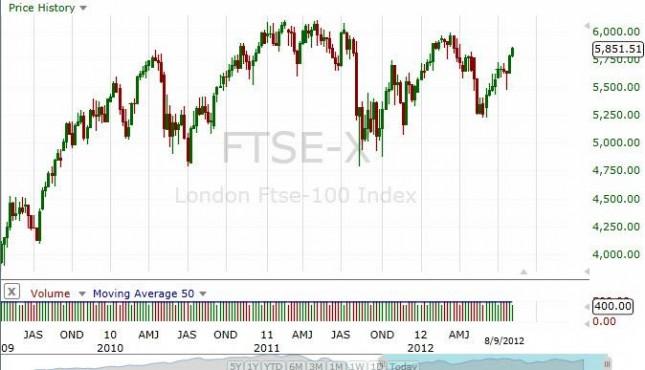 The FTSE 100 had a positive week over the last five sessions, as it approaches the 5900 level. It should be noted however, that the area just above is the start of major resistance that runs all the way to the 6000 handle. Because of this, we are a little hesitant to buy into stock market rallies in London at the moment, as the rally certainly looks a bit overextended at this point.
As you can see on this weekly chart, we have had a strong run for the last couple months and without much of a pullback. We think that the pullback is coming, and would in fact submit that this market is perhaps in some form of consolidation between 5000 and 6000. Since we are so close to the top, we suspect that lower prices are going to be coming in the near future.
With all of the quantitative easing out there waiting to happen via central banks, it's going to be very difficult to short the stock markets in general. However, we think that the effectiveness of this quantitative easing that so many central banks have been doing is somewhat limited. In fact, you can say that it's a bit of a case of "diminishing returns." With this in mind, we are more than willing to short this market closer to the 6000 level on signs of weakness.
As for buying, we need to see 6000 taken out on at least the daily close which would of course signal a new leg higher. We think that it's going to take something special to break through 6000, so we don't necessarily look for that to happen.