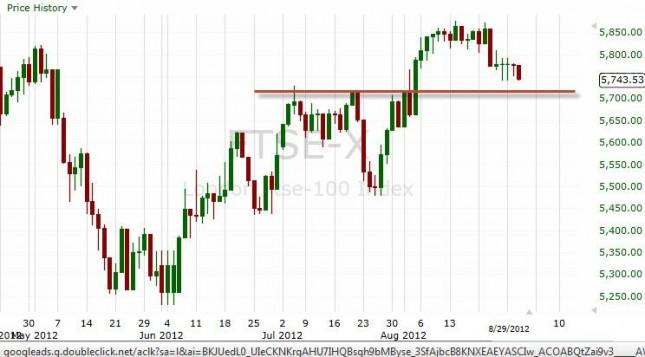 The FTSE 100 index fell during the session on Thursday as the 5750 level was tested. The area has been supportive over the previous several sessions, and as such it does look like we are trying to find a little bit of the base at this point in time. The 5700 level just below is massive support as well, and because of this we are not overly bearish of this market until we get below that level.
If the 5700 level gives way, we believe that the London stock exchange itself should continue to fall over time. Higher beta stocks such as the financials will certainly be had, and this makes sense as the problems in the European Union continue. British banks have a lot of exposure to European debt issues, and as long as this is true they will be a bit of a wait around the neck of the market.
If we manage to break out to the upside, we would see a move up to 6000 being the next step in London. However, that level should be massively resistive, and unless we get above that we don't believe that any long-term trades are available as we continue to chop around. However, overall the market does look relatively bullish even if there is quite a bit of noise above.
The Jackson Hole speech on Friday by Federal Reserve Chairman Ben Bernanke is going to have an effect on markets around the world, and as such it is important to see whether or not more quantitative easing is coming out of the United States before the "risk on" trade could be taken.
We are reaching the end of the summer holiday season, and the volume should start picking up again. This means that we could see the "real move" in the next couple weeks, which should make trading this market much easier. Some 5700 we are sellers of the stocks, but above the 5800 level we are buyers, noting that the 6000 level will be a hurdle for the bulls to overcome.