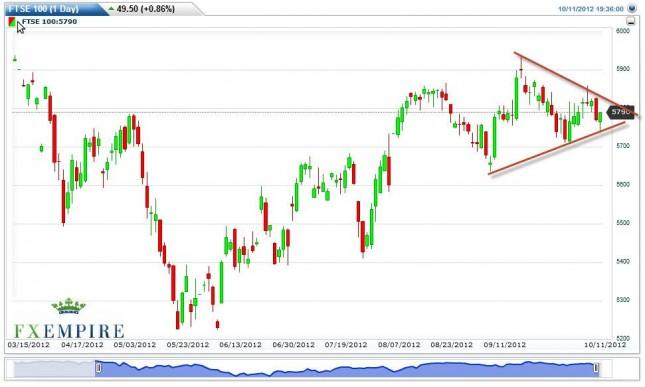 The FTSE initially fell during the session on Thursday, but bounced relatively hard in order to form a nice-looking hammer. We now are starting to see the first signs of a triangle, and as such there is a possibility we will get an explosive move in one direction or the other. It is a bit too early to say which direction, but the trend is still from the lower left to the upper right on this chart, and this suggests that the uptrend will more than likely continue.
However, we are not willing to take position until we make this sudden move, because of the headline risks that are out there in the world. Looking forward, we expect the 5800, 5900, and most certainly the 6000 level to offer resistance. But more importantly, we see 5750 600 is massively supportive. This could in fact be what propels the uptrend forward.
The United Kingdom itself is slowing a bit but overall is one of the better economies as far as majors go. With the European Union slowing down drastically, a lot of money from the continent has been going over to the British Isles. We believe that this is reflected on in this index, as money flows into the London Stock Exchange.
As the risk appetite goes up and down, so will this market. The British pound itself is highly tied to risk appetite, and so is this stock index as a result. We believe that the upward pressure will eventually prevail, but it must be said that 6000 is a massive area that could keep this market lower. If we can get above that 6000 handle, we would become long-term buy-and-hold type of investors in this market. If that happens, we would simply by the ETFs that follow this index and hold onto them.
We do see value in the financials presently, as well as some of the higher dividend payers because of the lack of yield out there in the financial world. Because of that, individual stocks could be picked, but by far the easiest way to take advantage of this market is through the exchange traded funds.