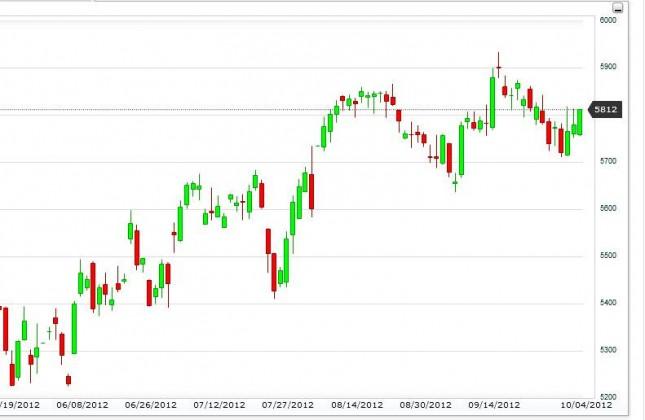 The FTSE rose during the session on Thursday as the 5800 level finally gave way. We close right at the same spot that both the Tuesday and Wednesday session failed at. This looks like we're going to attempt to rally further, and as such we fully expect the 5900 level to be tested in short order.
Looking down the road, we think that the 6000 level ultimately be the real test of conviction for the buyers of this index. We think that although this particular trading day maybe kind of slow due to the nonfarm payroll numbers coming out of America, overall the trend is still up and bullish.
We like buying ETFs that follow the FTSE, as well as some higher beta British stocks such as the financials. Of course, you can do quite well buying dividend paying stocks as you get paid to wait over time, and also there is a significant amount of opportunity in the futures market presently.
If you have the ability to trade the CFD market, this could be a good way to keep your leverage somewhat down and still take advantage of the overall attitude of the market. Alternately, you can use the binary options market as a way to take advantage of the overall upward pressure, as we see the potential for choppiness going forward.