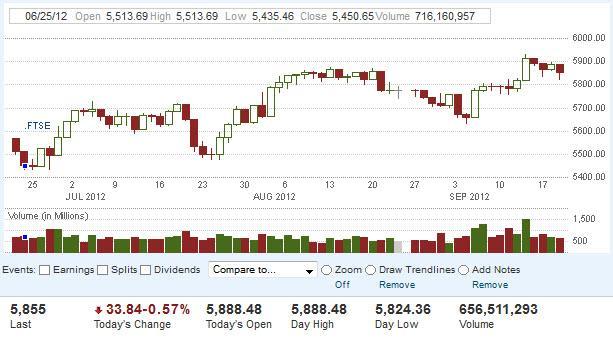 The FTSE 100 index fell during the session on Thursday, but bounced from the 5800 level in order to prove the area supportive again. The candle for the session was a hammer, and this does have us thinking that we're going to end up going higher. We still believe that the 6000 level is the target, and therefore the challenge for the buyers in this market.
If we can get above 6000, we think that this market should continue to go higher and be a longer-term buy-and-hold. With quantitative easing around the world going on, it isn't hard to imagine a situation where assets rise in value based upon debasement of currencies. In fact, in this light we suggest that perhaps the best rate will be simply work with the central banks as opposed to against them. The central banks around the world currently want you to buy stocks, and that seems to be the best bet in the short-term at least.
Looking the shape of the candle, it does suggest that if we reach the 5900 level, the 6000 level will, in relatively short order. We do think however, that this bullish momentum could be chopped up a bit and the noise above. There is a lot of support and resistance in this general vicinity, and this will cause a lot of choppy trading. Because of this, we do not suggest taking leveraged positions and therefore we will choose to stay out of the futures market.
ETFs can be used however, as it is a nice directional play on the index itself and not held hostage to the whims of one particular stock. While we are bullish on the British stock market in general, we do feel that taking a company in this environment can be a bit taxing as there are so many conflicting headlines in the news flow on any given day. With this in mind, we prefer buying on dips in this marketplace as we think eventually we do break out up and above the 6000 level.