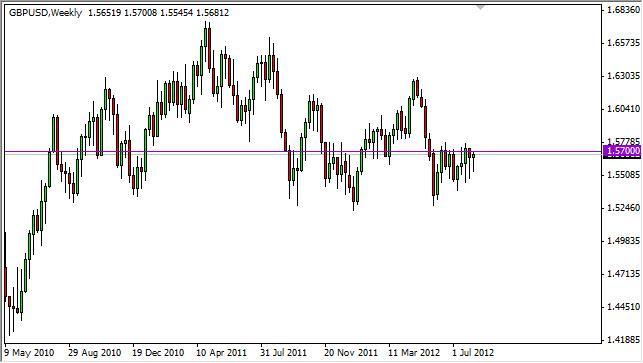 The GBP/USD pair had a slightly positive week after falling for much of the five sessions. The bounce back caused yet another hammer in this market, and it seems that we are currently pressing against the 1.57 level as the buyers stepped in to the markets. This resistance band extends all the way to the 1.58 handle, and it is a trigger for us to start buying this market if we can get above that on a daily close.
The fact is that the British pound simply will not give up. This just looks like a market that once or even needs to continue going higher. If we get above that 1.58 level, we see a move up to 1.60 is almost a given at that point. The market could also see this pair run all the way to 1.62, but we do think that the 1.60 level will cause some type of natural reaction as it is such a large round number.
During the past week, Gov. Mervyn King of the Bank of England suggested that monetary policy is right about where it needs to be. While this is in an exciting that announcement in and of itself, many around the world suspected that the Bank of England was going to have to continue with monetary easing. Needless to say, this is good for the British pound as the interest rate differential between it and the US dollar should remain steady.
Whether or not this is based upon solid fundamentals isn't the point. The reality is that the market once the go up as the lows keep getting higher, and that's all we need to know. We don't see any chance of selling this market in till we get below the 1.54 level, and that's something that the market hasn't been willing to do for the last month or so. Is because of this that we think this is a buy only type of market right now, and we will do that once we get above 1.58.