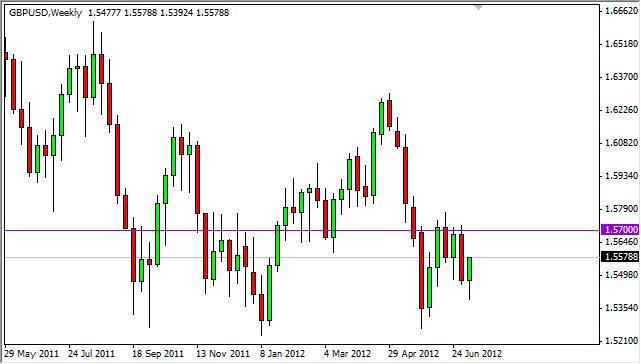 GBP/USD had a wild week as we initially saw a fall in this currency pair, and a breaking of the support level at the 1.55 handle. Initially, this looked like it was going to be a currency pair that was entering into a serious decline, and perhaps heading to retest the recent lows at 1.5250. However, we saw a wicked bounce on the Friday session, which certainly changed the Outlook in this pair for the immediate future.
The weekly candle looks like a hammer, and in fact it has even more green space than a typical one would. This suggests that there is serious strength underlying this rally, and we think that a move to the 1.57 level looks pretty likely. It is above that level that this pair will continue to struggle. We see massive resistance between 1.57 and 1.58, and as such think that the upside might be somewhat limited for the immediate future.
You should keep in mind that it is the summer trading season, and this means low-volume. What this could suggest is that we are going to see a consolidation move back up to the 1.5730 level or so, and then a drift back down. This will be difficult for the longer-term trader to cope with, and as a reaction many will just simply stay out of the markets.
If we can manage to break above the 1.58 level however, we feel that this market should rise all the way back to 1.62 or so. In other words, it would set up a nice a longer-term trade. On the downside, we feel that a break of the 1.5250 level would signify a massive failure of support and perhaps a serious move lower.
The British pound will continue to suffer a bit however, as the Bank of England is looking to ease further. The one monkey wrench that could be thrown into the bullishness of this pair would be if the Federal Reserve remains tightlipped on any easing that they may do. However, it does look to us like the next 150 pips or so will be to the upside.