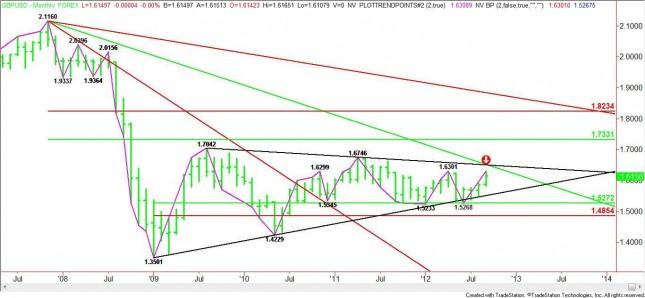 The GBP/USD finished better during September and in a position to move higher. Last month the main trend also turned up when the currency pair penetrated the previous high for the year at 1.6301. There wasn't much of a follow-through to the upside when this price was violated due to short-term overbought conditions. 
Although a downtrending Gann angle from the 2.1160 top is providing resistance this month at 1.6440, the technical item that traders should focus on is the triangle chart pattern formation. To technical traders, the triangle chart pattern is known as a non-trending pattern. The gradual narrowing of the support and resistance lines typically indicates impending volatility.
With a bias developing to the upside, traders should watch this month for a test of the downtrending Gann angle at 1.6440 and the down-sloping resistance line at 1.6479. Because of the length of Gann line and triangle chart pattern, a breakout to the upside will be a dramatic event and should draw the attention of traders. This could create tremendous upside momentum that could drive theSterlinginto a major 50% price level at 1.7331.
While the key area to watch on the upside is 1.6440 to 1.6494, the most important support level is 1.5548. Based on this year's average momentum, this price or support is unlikely to be tested this month.
In summary, the long-term compression of the prices suggests this market is getting ready to make a move. With a bias to the upside developing, traders should watch for a breakout this month. If there is no breakout then the longer the market stays in this sideways trend, the greater the breakout later.