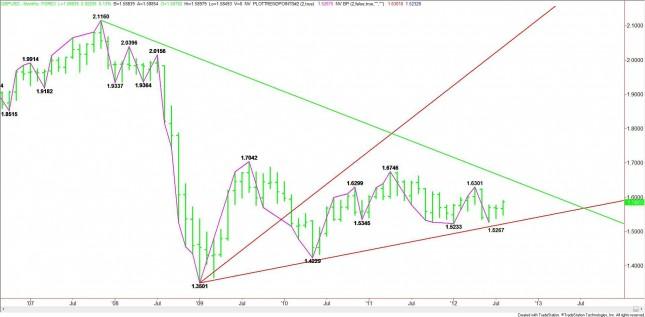 The GBP/USD continues to trade inside of a long-term triangle chart pattern. This chart pattern compresses the trading range over time, but eventually the market will break out of the range. This typically occurs when a market is trading at or near the apex of the triangle. Given the current position of the Sterling and the fact that the apex occurs in mid-2013, it looks as if this market has more sideways action ahead before breaking out.
The triangle formation is providing the major support and resistance at 1.5261 and 1.6520 respectively. Short-term support and resistance is at 1.5267 and 1.6301. At this time, the currency pair appears to be straddling a short-term mid-point at 1.5784.
Swing chart analysis indicates that the main trend is down on the monthly chart. The main trend will turn up with the swing top at 1.6301 is violated. A trade through 1.5267 will reaffirm the downtrend.
The technical picture is reflecting investor uncertainty. Preventing the market from rallying is the current recession in the U.K. economy. Not only is the economy suffering because of the sovereign debt crisis in Europe, but the financial austerity plan implemented by the U.K. government is also holding back growth. The current economic weakness likely means that the Bank of England will implement another round of quantitative easing at its next meeting the first week of September. This would keep downside pressure on the Sterling.
Additional quantitative easing by the U.S. Federal Reserve could send the British Pound higher against the dollar. On August 31, Federal Reserve Chairman Ben Bernanke hinted that a weak U.S. job market could encourage the central bank to take stimulus action. The timing of the Fed's aggressive action is helping to keep down volatility, but once traders become more confident when the central bank is likely to act, the Sterling could spike higher against the Greenback.