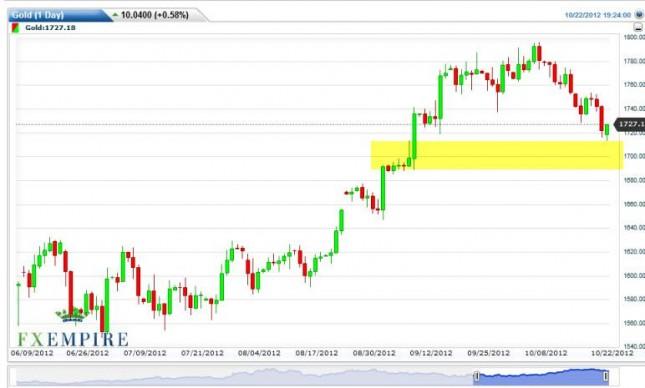 The gold markets fell during the beginning part of the Monday session, but as you can see upon the daily chart we found support in the vicinity of $1720. This was one of the areas we suspected could act as support, and as such we are willing to start adding to are longs at this point in time. Granted, it would be a small position, but we believe this is where the bounce starts.
Looking at this chart, the candle for the session wasn't that impressive, but it did appear where we wanted it to. Because of this, we think that this market goes much higher again but will have to struggle with the $1750 level. If we can get above that level, this market should go right back to the $1800 level, and possibly the $1900 level.
As for selling gold, this is something we simply will not do as there are far too many fundamental reasons to own the precious metals right now. Central banks around the world continue to print money wildly, as well as add to their gold stockpiles. Because of this, we actually are starting to buy physical gold as part of our investments, as we believe that the metal should continue to rise in price over the long run. Buying physical gold takes the leverage out of the equation, and this of course means you can be long of gold without worrying about margin calls and the like for the long term.
Looking above, we do see the $1800 level should offer quite a bit of resistance. This makes sense, as it is a large round number, and of course it was the most recent high. With this being said, we do believe that the gold markets will get through eventually, and as such we also hold a core position in the ETF known as the GLD, which of course holds gold futures. This market continues to be a "buy only" one for us as well, as the fundamentals continue to scream for bullishness in this market.