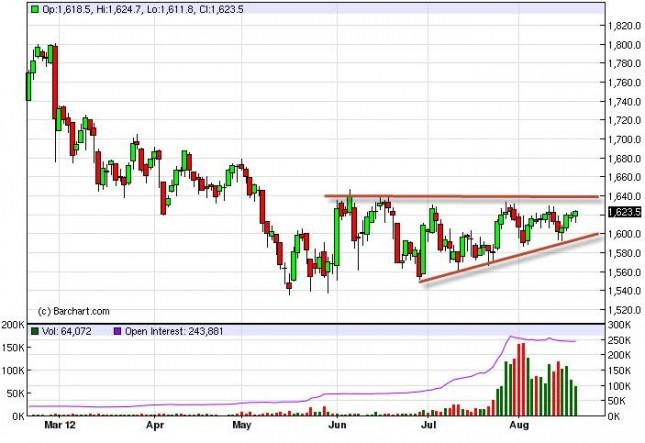 The gold markets are starting to look more and more bullish. The candle for the Monday session had actually been negative at one point, but bounce in order to form a hammer. This hammer is just underneath the 1640 level that we have been watching as major resistance. If this level gets taken out to the upside, this will confirm the triangle been broken out of, and suggest a move to the $1740 level.
It should be noted that this chart looks somewhat similar to the way that the Dow Jones Industrial Average, the S&P 500, and the FTSE all looked for Monday. In other words, it looks like we could very well see a breakout for risk related assets. If this is the case, gold should do quite well.
Adding to the bullish case for gold is the fact that more and more central banks look likely to engage in quantitative easing. Any time this happens, hold always does well against Fiat currencies.
As always, we are waiting for a daily close below $1500 to consider selling this market as that would be a spot of major momentum change. Until then we either buying this market, or simply sit on the sidelines. Right now we are on the sidelines - but it is looking increasingly likely that we will be buying this soon.