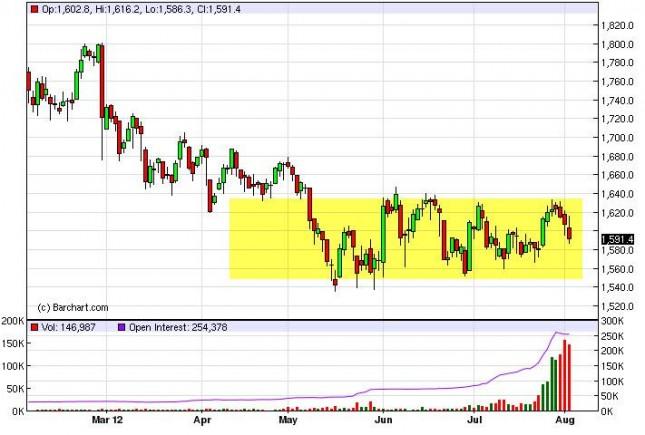 The gold markets initially spiked during the session on Thursday as traders around the world expected to hear the ECB come out with some type of massive new program. As the announcement was released however, it became very apparent that the market was pulled yet again by the Europeans, and as a result there was a rush to close risk assets.
The market fell from the $1620 level to the $1590 level by the end of the session, and had formed a shooting star. At this point in time, it does look like we are race back down to the $1,560 level, but of course have to pay attention to the nonfarm payroll number later today to decide which direction we will go.
The recent consolidation area should still hold and we believe that the $1540 level will be supportive still, and the $1640 level will still be massively resistive. Wall Street is looking for roughly 100,000 jobs added for the number, and anything near that will more than likely be a problem for the market as they are hoping for a port number which will force the Federal Reserve into more monetary easing. If that happens, the theory of course is that gold should gain in response.
Is because of this that we think this market might be one to watch during the Friday session, and not want to trade necessarily. This is because we expect very whippy conditions during the trading session, and the truth probably won't be aired out until the end of the day. If you can keep your eyes on the wider targets and important levels, a lot of times you can avoid getting chopped up in these types of trading environment.
If you do feel inclined to trade short-term charts, perhaps looking at the outer limits of this consolidation area as trading spots could net you some profit during the Friday session. However, for anything you consider long-term, we certainly need to see this consolidation area give way in one direction or the other. Adding to the case for being bullish is the idea that the $1500 level below this area is massively supportive. Overall, we think the gold markets should continue to rise, the question becomes when the Federal Reserve decides to start easing again in order to have this happen.