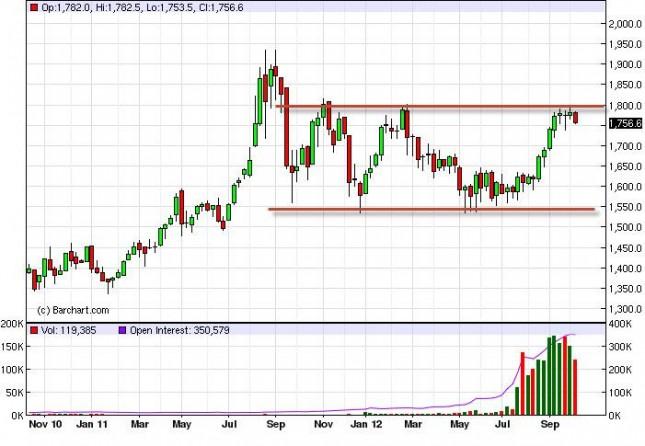 The gold markets had a negative week for the first time in what seems like ages over the past five sessions. We managed to stay above the $1750 level low, and this does give us at least some hope that the bullish momentum will continue. Having said that, you can see that the candle is the weakest the market has printed over the last four weeks.
There is also the possibility that we are now stuck in a range. If that's the case, we are at the top of it and we think as a result buying gold will be difficult until we break the top of the mentioned range. We see the $1800 level as resistance, and we simply must get above that level in order to continue higher. We do believe that this will happen sooner or later, and as such are very bullish of the yellow metal overall.
On the bottom side of this range, we have the $1550 level. This area produced quite a bit of support over the summer, and as such we still think he would be massively supportive if and when we did fall low enough to test that area. This of course is a big if, so we don't necessarily expect to see that.
The central banks around the world continue to not only print currency, but they also are collecting gold themselves. This puts a natural bid in for the commodity overall, and as such we are expecting to see higher prices over the next several months. The market can of course be very witty, so because of this we are very cautious on when we will insert the futures market. Right now for example, we would be much more comfortable entering a position using the GLD ETF. This gives you exposure to gold futures markets without all of the leverage.
Once we get over the $1800 level however, we feel that market has broken through a serious resistance area and could buy futures contracts at that point. We even think that pullbacks can be bought on signs of support. We see support presently at the $1700 level, followed by the $1650 level and the $1600 level. As for selling, we simply won't do it.