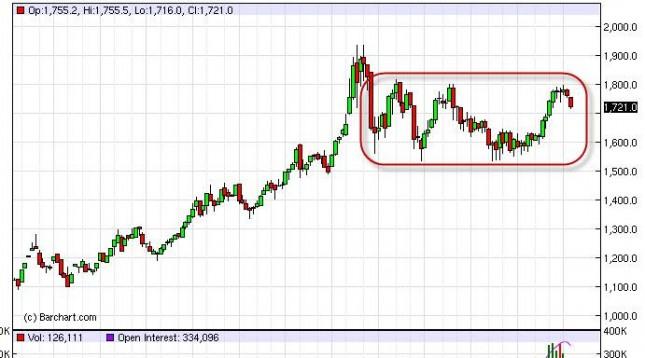 The gold markets fell rather hard during this last week as the $1800 level now appears to be extreme resistance. If you look at the longer-term charts, you can certainly see a consolidation area between roughly the $1550 level, and the $1800 level. With this in mind, although we are very bullish of the gold markets it is hard to argue with the fact that it certainly looks like we made some type of statement over the last five sessions.
Because of this, we suggest waiting until we get closer to the $1600 level in order to start buying gold again, if the market gives you that opportunity. Looking at this chart, you can see that there are a few areas that could offer minor support below, but the real support seems to be closer to the $1600 level. Is because of this that we wish to take a longer-term outlook, and simply wait for better pricing. We still believe in the higher prices of gold in the future, but do recognize the fact that the market is simply sideways at this point.
Obviously, if we take out the $1800 level, this would be extremely bullish and have us racing towards the $1900 level. But if you look at the chart, you can see that the last couple of months of been extremely bullish, and this pullback would have been needed. One particular interesting tell that could be coming is whether or not we get some type of hammer or supportive candle at the $7000 level. If that does in fact happen, we would be buyers at that point as well as it would signify that we are going to make another push towards $1800, and at a higher level which normally signifies that pressure is building to the upside.
With the Federal Reserve printing money like it's going out of style, it's very difficult to imagine a world where gold prices don't eventually go higher. In fact, we still maintain the $2000 an ounce is within the market sites, and will more than likely be head over the course of the next six months.