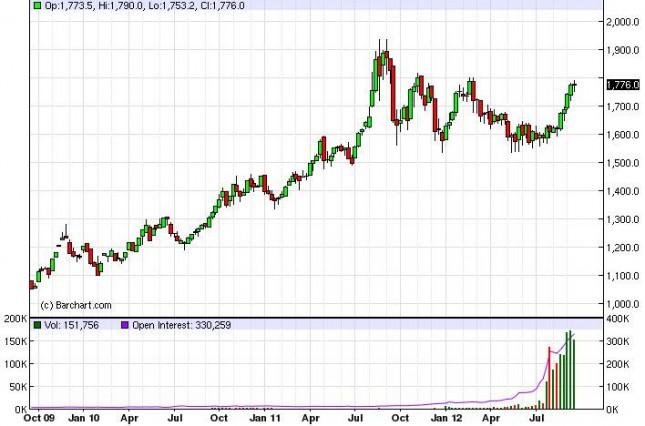 The gold markets finally took a rest this previous week as we finish the Friday session essentially unchanged from Monday. The resulting candle is a bit of a doji, and as such it looks like the market may be running into serious resistance at the $1800 level. This is unsurprising, as it has been resistance previously, and as such we think it will be a bit of a fight to get over. In fact, you can look back to October in suggest that gold has been consolidating between the $1600 level, and the $1800 level, because of this, we need to see breakout above $1800 in order to get bullish of gold long-term again.
While we wouldn't sell gold certainly, it does look like a pullback is needed. Perhaps a pullback to the $1700 level would be just what this market needs in order to gain momentum to the upside. Obviously, if we have a least a daily close above the $1800 level, we would be willing to buy as well.
With the Federal Reserve willing to print as much money as needed, it looks like the hard assets such as gold should do well over the long term. With this in mind, we prefer to buy a mix of gold related products. The ETF GLD is a great one to get involved and as it gives you exposure to gold in a low leverage environment. Because of this, you can ride out some of these pullbacks a little bit easier.
Once we get the pullback and some type of support, this is what we prefer to buy gold futures and physical gold. We think this market has a long way to go still, but there will be pullbacks from time to time. By owning the GLD, we are allow it to stay in a long gold position while all of the volatility continues. This is in essence a "core position" that we can use in order to take advantage of gold from a long-term perspective, while taking advantage of the volatility through the leveraged markets.