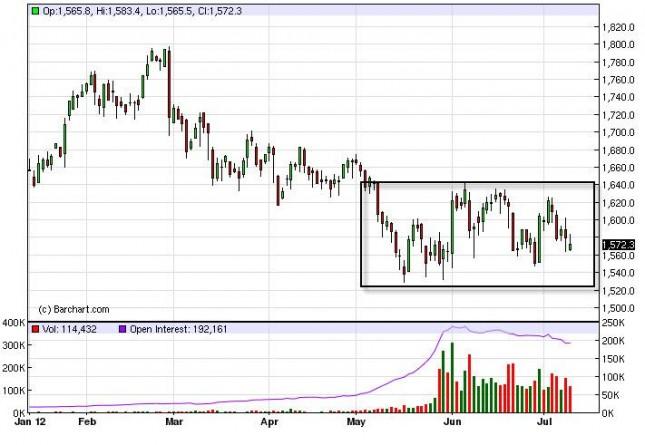 Gold markets initially rose during the session on Wednesday, perhaps in response to the possibility of the Federal Reserve hinting at further quantitative easing during Wednesday's announcement. However, there was absolutely no hint of that and we believe that a lot of the selloff that we saw late in the trading session would have been predicated upon the fact that there was no definitive talk of easing out of Washington.
Of course, had they decided to ease or at least suggested, it would have weakened the dollar which would undoubtedly have pushed gold higher. Since they didn't do that, the group of traders that had bought gold earlier in the session will have undoubtedly been the ones to sell it off. This is basically a group of "weak players", and really shouldn't be thought of in a long-term sense.
We still feel that the gold market is stuck in a large consolidative zone, and will probably be so until the end of summer. It is in the fall that a lot of the larger firms step up their volume, and as a result we may see it a bit of a sideways grind over the next month or two. We still see $1540 as significant support, and that goes all the way down to the $1500 level. As for the resistance, we see $1640 as the beginning of resistance. Because of this, we are willing to buy supportive candles closer to the $1540 level, and sell resistive candles closer to $1640. In truth, this may be the only trade its open in this market for the next month or two, and this is the one that will continue to trade.
We would suggest that position sizes should be a bit smaller, as sudden moves could come about and what would be a little bit thinner market than usual. With this being said if you only trade three contracts, you may want to cut it down to one or two. This is just simply a way to protect you against sudden moves that could possibly be coming, more than likely due to headlines out of either Europe or the Middle East.