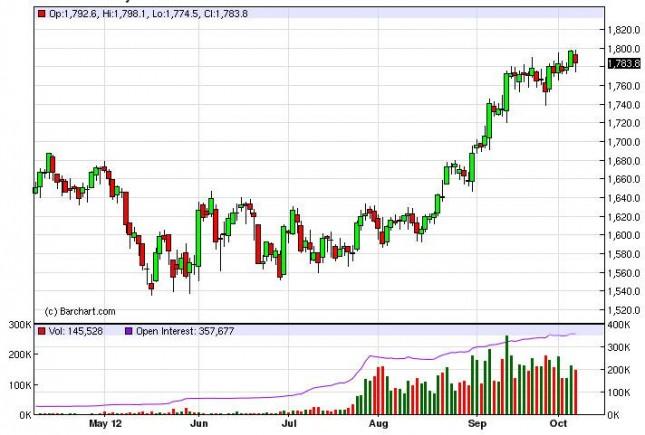 The gold markets fell during the Friday session after the nonfarm payrolls number came out better than expected. This got a little bit of the bit into many of the other markets, and as such it now looks as if the gold market is trying to take a little bit of a breather. We did break out recently however, and this doesn't change that fact. In fact, we think that this market should continue much higher overtime. We are using these pullbacks as a buying opportunity because of that.
With all of this in mind, we are buying dips by using futures markets, and the CFD markets. This allows us to use leverage on signs that the market will strengthen, while adding to a position that is already long of gold via the GLD ETF. By doing so, we are continually long gold and therefore no matter what happens will continue to gain every time it does.
However, with all of the volatility out there it makes sense to simply try and ride out a non leveraged position using the ETF, and leveraging things off when it does look like the market showing signs of strength. As for selling gold, we have absolutely no intention in doing so as we see it being far too strong at this point in time.
The Federal Reserve will continue to print US dollars, and as such the precious metals in general will do well. Looking at the fundamentals, you can see that not only the Federal Reserve is working to devalue its paper fiat currency, but so is in the Bank of Japan and that more than likely the European Central Bank. With so many central banks working against the value of their currency, it makes sense that precious metal such as gold continue to climb. With that being said, we are not buyers every time it pulls back.
Once we get above the $1800 level, we think that this market will continue to rise rapidly. Ultimately, we expect to see $2000 an ounce in this market. In fact, we expect to see a much sooner than many other people would suspect.