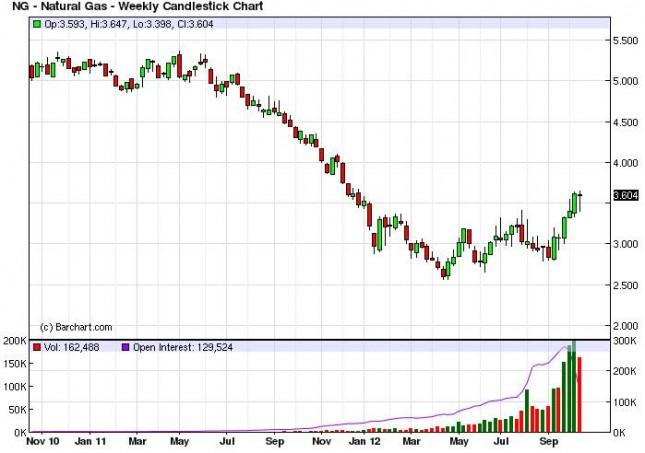 The natural gas markets fell for most of the week, but bounced in order to form a hammer by the time Friday closed. This suggests to us that we have retested the original breakout area of roughly $3.50, and have now formed a hammer that suggest we are going much, much higher. With this in mind, it is difficult to see a scenario where this market becomes bearish again in the near-term.
Because of this, we would be buying a break of this week's top as it would signal more bullishness coming into the market as we head towards the $4.00 level. Also, dips could be bought on the daily charts that suggest support as well, as a way to fine-tune your entry.
The fundamentals for natural gas should be picking up as the colder air hits the northeastern part of United States. A traditional heavy user natural gas, this of course will push prices higher. Also, it should be noted that natural gas still commands a premium in places like Asia, Europe, and Africa, and as such we think that the natural gas markets will do quite well over the next couple of months.
However, there will come a day when the simple fact that there is so much of this natural gas commodity out there will weigh upon the pricing of it. We like buying for the next few months, but eventually will have to look for a decent sell signal. For example, if you look at the chart you can see how $5.00 definitely looks like it will cause quite a bit of resistance for this market. With this in mind, we think that this market can go quite a bit higher, and essentially have a target of $4.50 and by the time winter is over. However, there could be a buffer all the way to the $5.00 level, and this of course would make sense as these large areas tend to be thick rather than then. Looking forward, we are trying to find reasons to buy this market, as it certainly looks like it's going to continue to bounce from the lows.