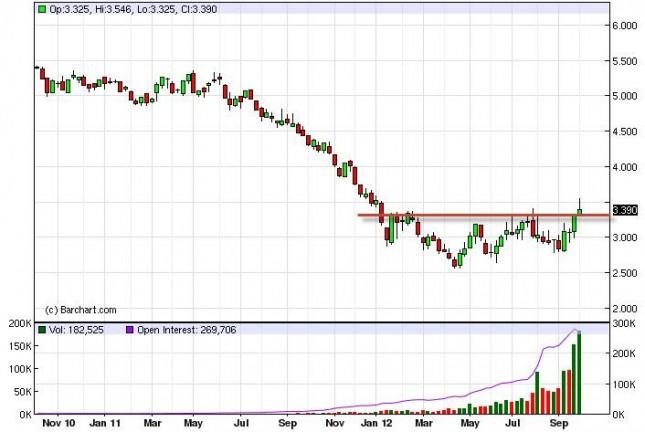 The natural gas markets rose during most of the previous week, but found trouble towards the end and formed a shooting star. This shooting star sits just below the $3.40 level, and does look like we are ready to pullback again.
It should be thought that the long-term trend is to the downside, and this of course makes the sellers more interested in this area. The shape of the candle is just about perfect, and as such we think that sellers should become aggressive sometime early in the week.
If we managed to break the bottom of the weekly shooting star, we are more than willing to start shorting this market again as the overall downtrend is so bearish. Also, if you look at the last three or four candles during the weekly time period, you see that there has been almost a relentlessly bullishness to this market right now, which of course needs rest and new buyers to continue higher.
The $3.40 level looks to be massive resistance, and although we have seen quite a bit of interest in buying, we think that ultimately this market will be weighed down by the fact that there is simply far too much natural gas out there. While we don't think that it will meltdown at this point in time, we recognize the fact that most of the rally lately has been predicated upon the fact that cooler areas moving into the northeastern part of United States. The truth is however, that there is more natural gas available storage now than most companies and power plants need.
We think that any fall at this point in time will more than likely search for the $3.00 level. This area should be significant support, and as such we think that a lot of questions will be answered in this area. If not, this market really could come undone at that point time and hit new lows. There are many analysts out there who had originally predicted a one dollar handle, and if we get below the $2.75 area we may just see that. If we managed to go higher, we think that a break of the shooting star tale is a decent buy signal, and would have is aiming for the $4.00 level.