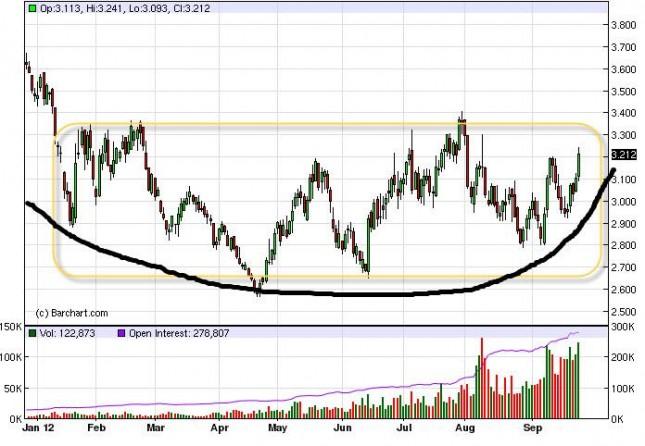 The natural gas markets had a very bullish day on Wednesday as the market continues to power higher. We got over the $3.20 level, which of course was the most recent swing high. Because of this, we cannot get involved to be short side in this market. However, we know that the fundamentals are lining up against the continued build up in prices in this market, and as such we are not willing to go long yet either.
This market could be, and we do stress the statement could be, building a base at this moment in time. There is a bit of a "rounded bottom" look to it, and as such we could see an explosive move higher. While we don't like the idea of going long the natural gas markets, the simple truth is that if we get above the $3.50 level, this market could go much higher.
Currently, we see the bottom of this rounding formation down at the $2.60 level measuring for a move up to the $4.20 level if we get above that resistance. As for selling, although we agree with it, the truth is there is far too much buying pressure building up at the moment. In the end, something must give way and we feel that this move will present itself in the very short run.
Part of this could be due to the fact that we have quantitative easing going on, and the US dollar is being hit as a result. Also, you have to understand the fact that natural gas tends to move inversely with the light sweet crude markets, which of course have been falling precipitously lately. The idea is that industries will go from one to the other depending on what the situation is.
Looking forward, we feel that this market is probably best play through the options market, or even the CFD market as it allows you to cap your risk. This way, you could take advantage of any explosive move higher, but do not expose yourself to any violent pullbacks as this market is prone to do. You also can use the options market in order to sell calls above the $3.50 level in order to take advantage of any potential resistive move up in that general vicinity. As for playing the futures market directly, we think this is going to be far too volatile to do so.