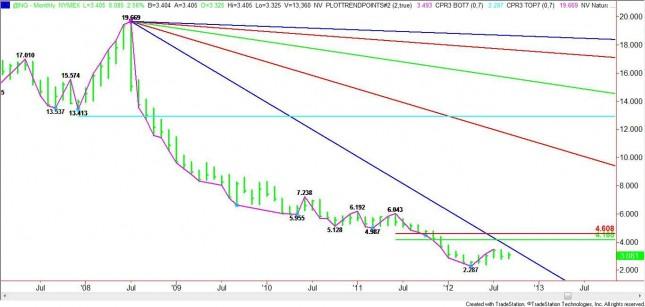 The main trend remains down for nearby natural gas, but there are signs of bottoming. For starters, the market has held its April bottom at 2.287 for five months. This is understandable since there was a record amount of shorts in the market at the time the low was reached. It takes time to liquidate all of the open orders, but at the same time a support base may be forming. Often the height of the market is determined by the length of the base so the longer it takes to establish a support base, the greater the potential rally. 
Downtrending resistance is at $3.3490 this month. A breakout above this level will be a strong sign that sentiment is shifting to the upside. Since this angle has held as resistance since July 2008, a move through it will probably trigger buy stops and attract fresh buying. 
Before getting too excited about the upside potential, traders have to make sure that the retracement zone created by the $6.043 to $2.287 range at $4.165 to $4.608 is taken out with conviction. If there isn't enough buying momentum to drive it through this zone, the rally will fail and the market will retrace to the downside. 
In summary, there are signs that a bottom is forming but it is going to take time to complete a solid support base. Once this is completed and some of the weaker shorts are taken out of play, the market is still going to have to clear through a long-term resistance line as well as a retracement zone. During the month of October, traders should look for more sideways action with no clear bias at this time.