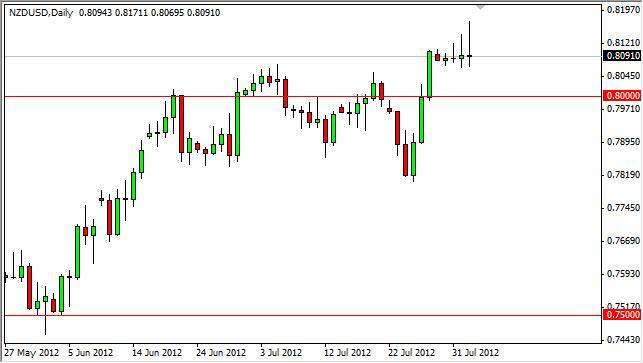 The NZD/USD pair initially rose during the session as the markets around the world braced for some kind of big program to come out of the ECB. When that failed to appear, the "risk off" trade came back into play, and of course the Kiwi dollar got absolutely pummeled.
It should be stated that we are closing below the 0.81 level again, and this is the third shooting star in a row. Although we keep making higher highs, we simply cannot gain any traction. A breakdown from here is very possible, and a move below the lows of the previous three sessions would send this pair searching for the 0.80 level in short order. That area should be supportive, and needs to hold if the bullish traders are going to continue to try and push this pair higher.
This market will essentially be a barometer on what the currency traders around the world feel the Federal Reserve's next move will be. Depending on the nonfarm payroll employment numbers out of America, we may or may not see the Federal Reserve easing expectations increase depending on how good or bad the numbers truly are. With an expected print of 100,000 jobs, it is possible that we could get that number. That made lead the markets in a little bit of a malaise and have them looking to cover risk assets. If that is the case, this pair will get hit.
When looking at this chart, we cannot help but notice that the 0.80 level is central to where we have been trading over the last several weeks. We think of the sustained move below the 0.80 level would be extremely bearish in this pair, and have us aggressively selling it. Alternately, if we can get a move above the top of the Thursday shooting star, this would show that the resistance above has finally given way, and the market can continue to climb higher. Until the ECB disappointed the markets earlier Thursday, that looked the most likely course. Now, we simply do not know and will have to wait for one of these larger moves the trigger before we get involved.