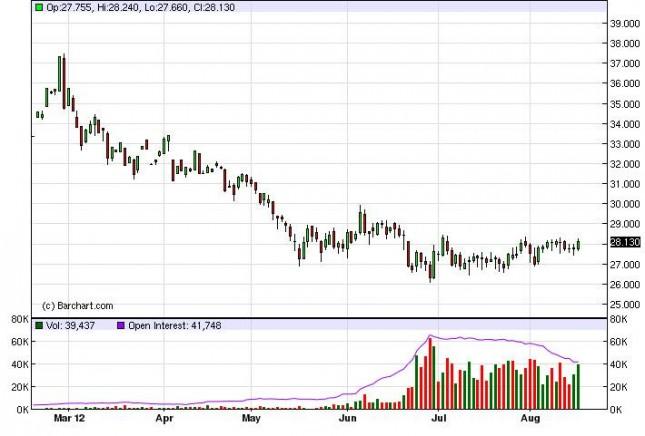 Silver markets gained during the session on Thursday, but still remained within the confines of the recent consolidation. It should be noted however that we do see higher lows in this market, just as we see in the gold markets. This does of course suggest that we are starting to pick up positive momentum, but we simply haven't taken off yet. This market does look like one that needs to get above the $30 level in order to remain bullish, and we fully do expect that to happen but maybe not anytime soon.
One of the biggest things that will help the silver market is if we can get central banks coming out any easing monetary policy, which of course should be mentioned that many of them are expected to do just that, and we suspect that September will be a good month for this to happen. After all, the central banks like the markets to know what's going on, and the month of September is when most of the big players come back into the marketplace.
Because of all of this, we are bullish of silver but are a little hesitant to put money to work at this moment in time. It's not that we don't feel that the market can rise or even will rise; it's more a matter of having better places to deploy capital at this point. However, once we get above the $30 level we feel that this market will continue to climb much, much higher and could even lead us back to the $50 level sooner or later.
As for selling silver, we need to stay below the $25 line for some time in order for me to get to that point. One of the biggest laggards of course is the fact that we do have an industrial component to the equation when it comes to silver, so it's not impossible that this market would break down. We see the $25 level as a bit of a shift in momentum, and if we get below that suddenly silver looks very unattractive. However, it does look like going underneath the $25 level is less and less likely each day.