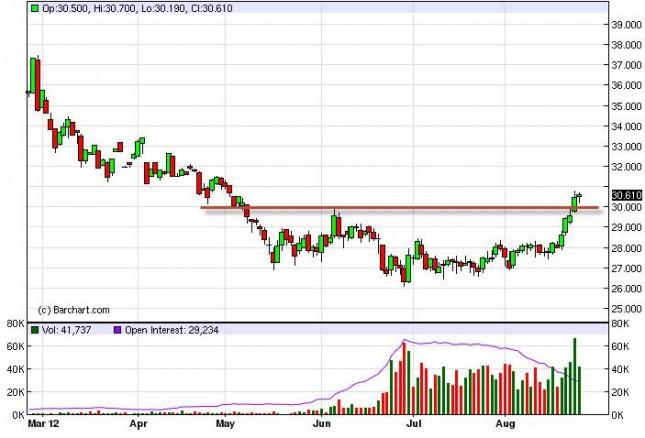 The silver markets initially fell on Friday, but found a bit of a bounce just above the $30 level in order to prove former resistance as current support. This suggests that the silver market is about to enter another large bullish phase higher, and as such we want to be long of this market.
The candlestick shape for Friday is a hammer, and as such it looks like we may see a breakout above what looks to be a weekly trend line at this particular point on the chart. The $30 level was significant to breakout above on the daily chart, and a daily close which coincided roughly with the $30.50 level on the weekly chart lining up with the downtrend line that looks to be the very last vestiges of resistance.
With central banks around the world looking to ease monetary policy, there will be a bit into the precious metals market in general. Silver is not only precious metal, it is also an industrial metal as well. This can work for or against the value of silver. In this particular market, we feel that the economic slowdown around the world will continue to put a little bit of pressure on demand for industrial metals such as silver. Because of this, silver will be bullish based upon the precious metals aspect of the contract, but will find itself a little bit behind gold as gold does not have the industrial aspect of it that silver does.
Once we clear the $31 level, there really is no significant resistance until we hit the $36 level. Because of this, silver looks like it's trying to ready to go. Friday has the Chairman of the Federal Reserve giving a speech at Jackson Hole, Wyoming that could be the last nail in the coffin as far as the Federal Reserve and its easing program. If he signals that's monetary easing is imminent, silver should just absolutely explode at that point in time. Because of this, it is possible that the early part of the week could be a little bit along the lines of meandering, with the main thrust of the breakout coming late in the week. As for selling, we simply are not doing it right now.