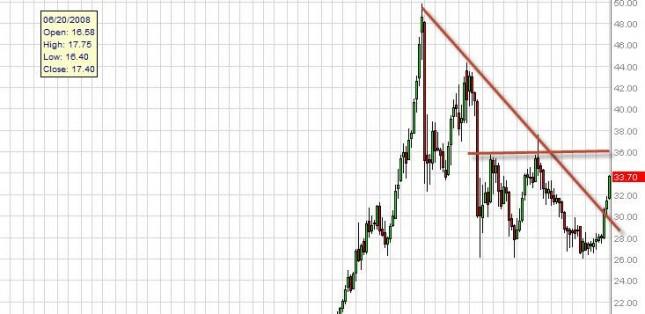 The silver markets have had quite a run for the last three weeks, as we were at the $28 level when this move started. During the last five sessions, we have seen continued bullishness and we are approaching the $34 level. The $30 level would have been the last vestiges of resistance in this marketplace, and as such we don't see any serious resistance until we get to the $36 level.
Adding to the bullishness is the fact that we have broken above a bearish trend line in the last two weeks, and we currently look like we have a floor in the form of the $26 an ounce level. Because of this, we are buyers of silver at just about any level as this breakout has been massive and truly important in its magnitude.
With central banks around the world looking to EEs their monetary policy, precious metals in general should continue to do well. Unlike gold, silver has an extreme amount of beta in it and is essentially a wild cousin of the gold market. Another thing to consider when it comes to the silver market is that there is a typical gold to silver ratio that the markets have been ignoring lately. Typically, for every 14 ounces of silver, you can get one ounce of gold. This is not the case anymore, and in fact is closer to 50 to 1. Because of this, either gold is highly overvalued, or the silver market is extremely undervalued.
At this point in time we buy all pullbacks in the silver market, and see actually no reason why we can go back to test the highs previously at the $50 level. The $50 level will eventually give way as well in our opinion, and as such this is actually a rate long-term investment as well as a trade. There simply no reason to short the silver markets, even if you see a potential pullback. Pullbacks will simply be an invitation to buy silver at cheaper prices going forward as the uptrend continues.