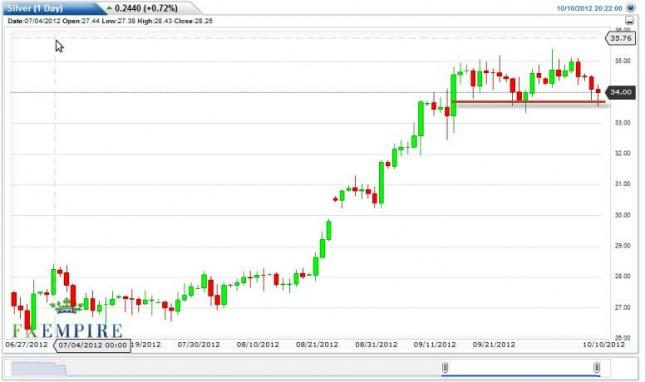 The silver markets fell during the session on Wednesday, but found the $34 level to be supportive yet again. The end result at the end of the day of course was not only a fall, but more importantly a bounce and a hammer is informed. This looks like an area that will continue to support silver prices, and as such we are more than happy to start buying silver again once we break the highs from the Wednesday session. This is a classic hammer being triggered, and as such we think that many other traders would get involved at this point as well. Also, it should be noted that the $35 level will eventually give way as it has been tested so many times.
We like buying the SLV ETF as a way to have a core position in silver, keeping us profitable during this move without all of the leverage. However, once we break the $35 level, we feel that futures will be the way to go. We do own physical silver as well, and continued to hold it for the long term. In fact, we believe that holding onto physical silver is an investment and not a trade, and as such have no plans whatsoever to start selling it.
We see the market being supported at the $34 level, as well as the $33 and $32 level below. Once you get below there, we see the $30 level is been massively supportive due to an appeared back in August. Because of all of this, and the fact that the superbikes around the world continue to print paper money, we feel that silver will eventually climb much higher.
In fact, we do not have a base case where we would start selling it. We simply wait for buying opportunities in act when we see them. We believe that we are in the middle of a cyclical bull market for this commodity based upon not only the central banks and their actions, but the industrial demand once the economies pick up. Because of this, it seems that silver is in a win-win situation.