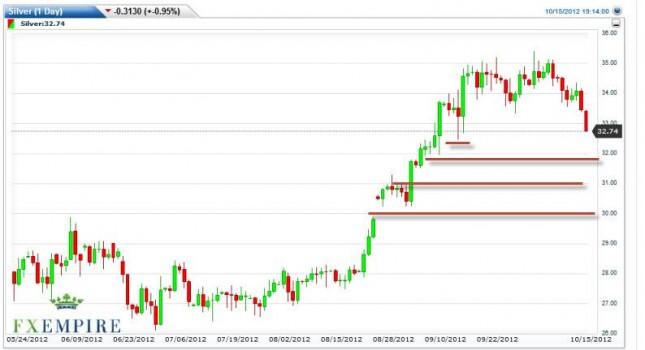 The silver markets fell rather hard during the Monday session, as all commodities took it on the chin. The end of the session saw the market stopping at the $32.75 level, and as such we think that perhaps more softness in this market could be coming. We do see the $32 level is been rather supportive, and most certainly see the $30 level as being supportive as well. It is because of this that we do not want to sell this market, but are rather waiting for a supportive candle in which to start buying again.
The silver market should continue to enjoy bullishness as long as the Federal Reserve continues to expand its monetary policy. With easy monetary policy, the demand for precious metals certainly will accelerate. The difference with silver though is the fact that there is also a certain amount of industrial demand that goes along with the metal as well. So in a lot of ways, it is a precious metal, as well as a base metal. In this particular type of circumstances, he you have a scenario where silver is probably going to get a bid in either direction.
Personally, we feel that the $31 level is massive support. We would like to see a pullback to this area in order to start buying again as the recent bullish trend has been quite impressive. Nonetheless, we do recognize the fact that we may not get all the way down there, and would of course by a supportive candle. We currently hold physical silver, and look at this potential pullback as an opportunity to go out and buy more.
The SLV ETF is also a major part of our core holding, and as such we will accumulate more as we fall. We will do so in small size, in order to take advantage of "cost averaging." The futures market would be a bit too volatile at this point time, but when we finally see the supportive candle this is how we're going to add a lot of momentum to our portfolio. Until then, we simply hold the safer, non-leveraged silver products. As far as selling is concerned, we have absolutely no plans on doing so.