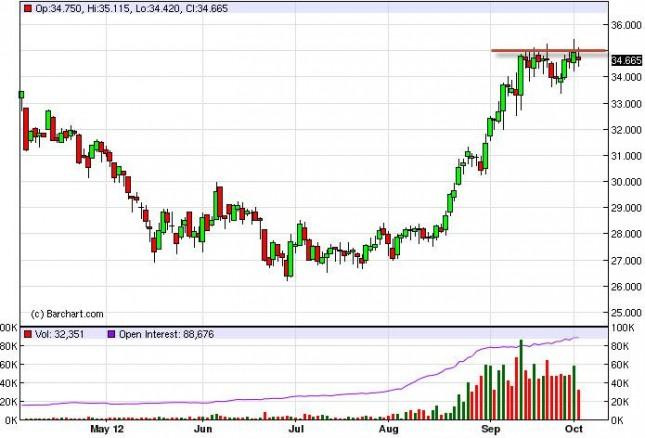 The silver market fell slightly during the session on Tuesday as the $35 level continues to hold as resistance. This area represents a significant barrier for the buyers to get over, and as such it may take some time for the market to break out. However, the fact that this level has been given way doesn't suggest to us that the market is certainly going to turn around and start selling off.
Granted, it is very possible that we do get some type of pullback, but this will more than likely be a buying opportunity. After all, the silver market broke down decisively over the $30 level just a couple weeks ago, and it looks like we are going to continue much higher once it's all said and done.
Looking at the chart, the Wednesday hammer from last week suggests to us that the $34 level will be rather supportive and as a result we think this market will more than likely consolidate between $34 and $35 in the short-term. With the Federal Reserve printing money as fast is a can, it does make sense that the precious metals markets continue to rise over time, and as a result we think that silver certainly has a bright future.
If the economy suddenly gets stronger, silver also has a part to play in that as well. As it is an industrial metal, and a lot of ways silver is the more interesting of the precious metals as it not only works against inflationary forces, but it also helps itself along once we have strong demand in the industrial sector. Unlike gold which is primarily used as jewelry, silver is used in literally hundreds of applications.
If we can get a daily close above the $35 level, we suggest that this market will more than likely run up to the $40 level. Ultimately, we think silver goes much higher than that and advocate buying silver in this physical form if at all possible as it takes out all of the volatility. However, if you cannot do it in that form, we suggest the SLV ETF as a great way to play a longer-term core position, while adding to it from time to time on pullbacks that shows signs of support in the silver futures market.