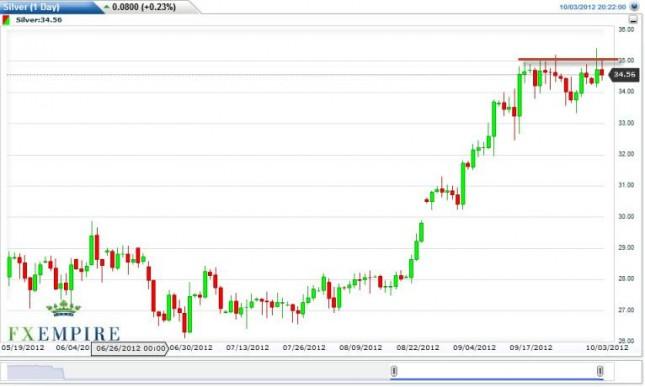 Silver initially tried to rally during the Wednesday session, but as we have seen so many times before the $35 level acted as significant resistance. We still believe that this market is consolidating between the $33.50 level, and the $35 handle. In the meantime, we think there is very little push this market around as the world awaits the jobs numbers out of United States on Friday.
With the Federal Reserve seemingly willing to ease its monetary policy forever, we do believe that the silver market will eventually continue climbing. This is why we actually have been buying physical silver as well is everything else related to silver. We do like the SLV ETF overall, because this allows us to be involved in not only silver, but the miners as well. This is a nice non-leveraged way to be involved for a longer-term core position.
We do like buying silver futures on pullbacks, as well as the silver CFD. This allows the trader to supercharge their returns on top of their core position every time we pulled back and find support. This market continues to show extreme bullishness, and even though we have shot straight up over the last several weeks, the action recently has only been sideways and not full of pullbacks. This normally signifies that the market is going much higher and it is simply taking a break at that moment in time.
Silver also will find quite a bit of demand in the industrial complex once we start seeing signs of global growth. Because of this, silver should not only do well with the idea of a weakening fiat currency, but also do well once the recovery begins as there will be huge industrial demand for it. With this in mind, we are definitely bullish of silver, and will be for the foreseeable future. Simply put, when it pulls back we are simply looking for signs of support from which to buy this market. As for selling, we see actually no reason to consider it until we get well below the $25 level.