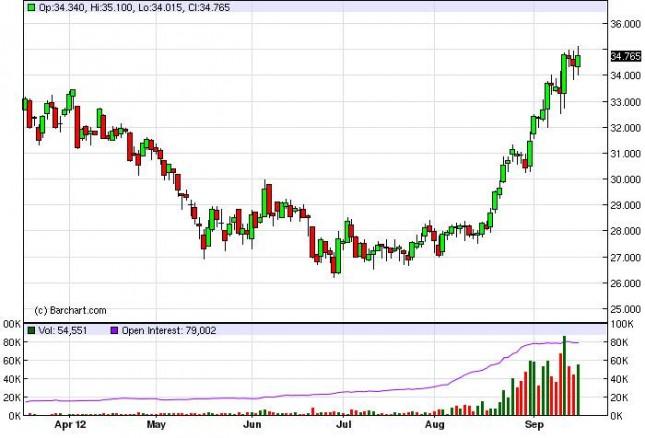 The silver markets rose again during the Tuesday session as the $34 level offered support. If we have any opinion on silver, it is that it is going much, much higher. Nonetheless, buying at this level is a bit tricky as it is overextended at the moment. We still see the $34, $33, $31, and most certainly the $30 level as potential support points. We would love to see the market pullback in order to buy silver at cheaper price.
We are long of the silver market in various ways currently and think that this is a "buy only market." There's absolutely no way that we would consider shorting the silver markets, and every time this market dips, we are more than willing to pick it up. We are long of silver via ETFs, physical silver rounds, and even futures markets. We see absolutely no reason to think that silver won't continue to climb in this current environment.
With stimulus and quantitative easing, central banks essentially will flood the market with money creating a nice drive for people to own hard assets. Silver and gold are both considered to be hard assets and "true money." On top of that driver is the fact that the US dollar will continue to weaken as long as the Federal Reserve prints currency, so this of course makes silver naturally rise over time.
Included in the bullish sentiment on silver is the fact that stimulus will often cause massive building project. Don't ever forget, silver does have an industrial application that is certainly a large part of its price action.  In a situation where we have both Fiat currency depreciation and industrial expansion due to stimulus, silver turns out to be a winner in both algorithms.
We do think the market is a little overbought at this point, and as such are expecting a bit of a pullback. As long as we stay above the $30 level however, we see absolutely no weakness in this market. Every time this market falls, you should be thinking "How can I buy more silver as price drops?"