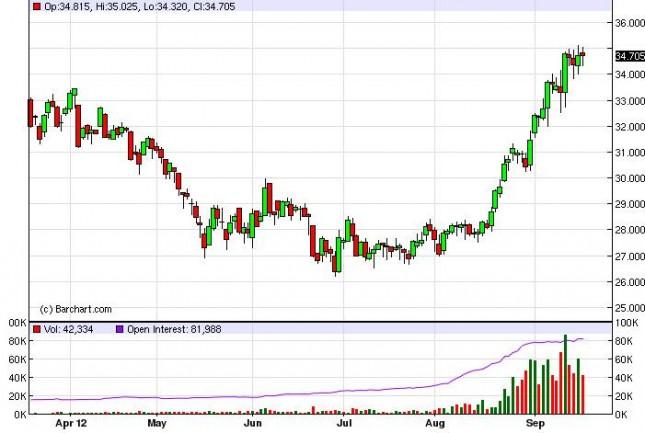 The silver markets have been a screaming buy for about 30 days now. However, over the last couple of sessions we have seen a bit of consolidation just under the $35 level. This makes sense, as it is a "big round of psychological number", but it's hard to believe that the bullish run is over.
With the Federal Reserve continued to step on the gas as far as quantitative easing is concerned, there's no reason to believe that the precious metals won't continue to do quite well. Needless to say, silver is no exception and the lack of supply is certainly a nice driver of price much higher.
Depending on which way you choose the play silver, can have a big effect on how you enter the market. If you are buying physical silver, averaging down sometimes can be the way to go. Yes, we do look a bit overextended at this point in time, but many physical silver traders are starting to buy into the market slowly. As price drops, they tend to buy more and more silver as they are building larger positions.
On the other hand, you can cut down a bit of the leverag by using the SLV ETF. This ETF features not only silver futures markets, but silver miners, and other companies that are involved in the silver process. It's a safe way to play a whole plethora of silver related companies.
Futures markets can give you a mega-boost when it comes to the leverage available. However, the silver futures market can be very volatile, and it has a fairly high threshold for entry. CFDs can take care of this as well, but you must be in a country that allows the trading of them.
No matter how you look at it, silver is a screening by at this point in time. Yes, we would like to see a bit of a pullback as it is a bit high at the moment. We think this market eventually gives much higher and eventually even breaks above the $50 level. However, a pullback would be nice as a move has been so strong over the last month. On pullbacks, we are not hesitating at all to start buying.