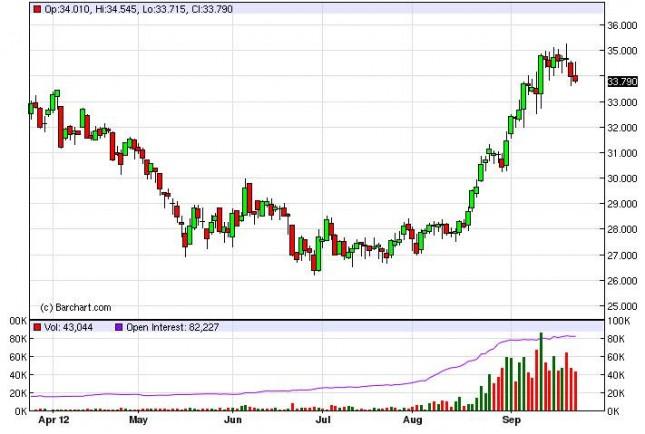 The silver markets fell after initially going higher during the Tuesday session in a fairly robust reversal of the bullish momentum. The resulting daily candle is a shooting star, and this of course would have the buyers somewhat concerned as it is a weak signal.
However, we do see the 33.50 level been supportive all the way down to the 33.00 handle, and as such it looks like we could see a little bit of support just below current levels. Nonetheless, it does look like silver is going to start pulling back, and it is probably overdue at this point in time.
We would become very interested in buying silver just above the $30 level, perhaps around the $31 level as well, and as such we actually welcome this pullback as an opportunity to start buying the SLV ETF in order to take advantage of a non-leveraged position. Looking forward, we think that this market still has plenty of gas left in the tank, but a pullback needs to happen as we have risen so far in such a short amount of time.
The industrial demand for silver actually outweighs quite a bit of other metals that are a bit more widely known as barometers of economic health. At the end of the day, silver also functions as a precious metal and in this quantitative easing environment, we think that silver will continue to perform very well against fiat currencies such as the US dollar.
Because of this, we are buying supportive candles, and do recognize the fact that we may or may not get down to the $31 level. There is definitely demand for silver out there, and as a result, we may not get down to those lower levels. Because of this, we will approach this market through the ETF first, and then as the bullish momentum proves itself we are more than willing to go long in the futures market.
CFDs can also be used as they can be custom sized for the specific traders account. Nonetheless, no matter how you choose to go about going long the silver market, we certainly do not recommend shorting it.