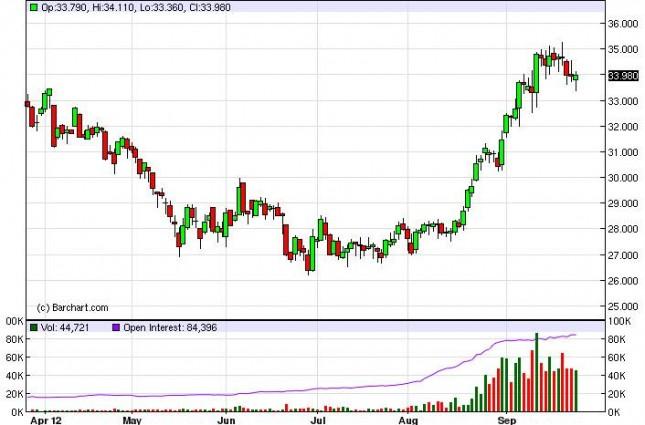 The silver markets fell during the session, but bounced in order to form a hammer for the Wednesday session. This suggests that we are going to see support come back into the market every time it falls. Quite frankly, this market needs a pullback after the massive search that it seen, but the truth is that we simply aren't getting that move.
With this hammer be informed just below the $34 level, it does suggest that we will see an attempt a breakout and above the $35 resistance line. This would jive well with the idea of Federal Reserve easing, as well as many of the other central banks around the world. As the central banks print more and more fiat currencies, this should push investors into precious metals in general.
The added bonus of being an industrial metal certainly helps silver as well. When you have simulative action by central banks around the world, typically this will push industrial production a bit. This of course brings silver into play as it is one of the most widely used metals in manufacturing, especially when it comes to electronics.
There are various ways you can play the silver markets, and we actually employ all of them. Physical silver of course is one way you can do it, as you simply buy bullion. Another way is to buy the ETF SLV as it follows not only silver futures, but silver miners and other companies around the world that are involved in the production of silver itself.
You can also use the futures markets, and we do believe that the support in this general vicinity is probably strong enough to warrant doing so. We do understand that the area all the way up to $35 will be more than likely very congested, and this could lead to somewhat choppy performance over the next couple of sessions though. If you have the ability to trade CFDs, this is also a viable alternative as it allows you to cut down the position size.
The only thing we will not do in the silver markets at this point in time is sell it. Certainly, there are plenty of people willing to try and sell these massive rallies, but the truth of the matter is that we see a very clear and concise trend to the upside at this point.