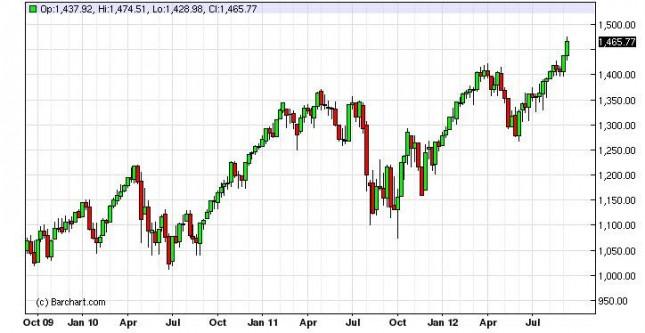 The S&P 500 Index had a bullish week as the Federal Reserve announced further quantitative easing on Thursday. The market is broken out well above the 1400 resistance area, and as such looks primed to go much higher. In fact, 1500 is almost a given at this point.
We think that buying on pullbacks will be the way to go. The vehicle you use will depend on your financial situation, but we think that the SPY ETF is one of the best ways to play from a longer-term perspective. One can also purchase futures and CFDs in order to play the directionality of the market as well.
We think that a pullback to about 1450 would be sufficient enough to get the market did of massively again. We also believe that eventually we will see 1500 and possibly even 1600 by the end of the year. Whether or not the stock market should be up here is an entirely different question, but certainly the technical say nothing but positive things about this market.
Looking forward, we think this is going to be a bit of a choppy ride higher, as this will have less to do with the companies in the S&P 500, and more to do with quantitative easing by central banks around the world. Certainly, investors are being punished for saving money in bonds, so they will be forced into equities. The market looks a little overextended at this point time, so a pullback certainly could be coming. This of course would be welcome by a lot of traders out there who missed the rally, and should create a bit of a buying frenzy below current levels.
As far as selling this market, we do not see the catalyst for it right now. The biggest fear out there right now is some type of European Union problem that rattles the markets. However, we have seen previously this year that money floods into the United States and stocks in general in this country when problems in Europe rise. Because of that we feel that this is a bit of a "one-way" market at the moment.