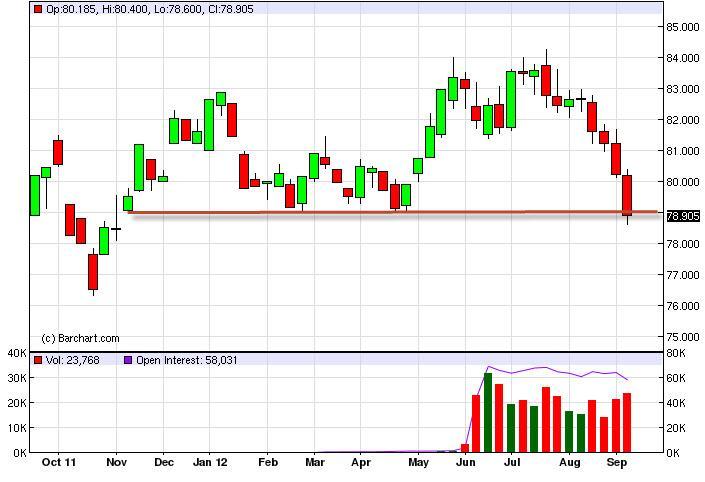 The US Dollar Index fell for the most part this previous week as the Federal Reserve expanded its quantitative easing program to include an extra $40 billion worth of mortgage-backed securities every month. Further pushing down the value of the dollar was the fact that the Federal Reserve also stated that they were willing to these as long as it takes. In fact, Federal Reserve Chairman Ben Bernanke even suggested that he was more than willing to continue to ease monetary policy and pump prime until well after the recovery starts.
With this in mind, it is going to be very difficult for the US dollar to remain buoyant. There will be some currencies of course that suffer as well, but it must be said that the commodity currencies in general will do quite well against the US dollar. Because of this, we feel that this index will continue to deteriorate as we have broken through the 79 handle.
We see significant support at the 77 area, and think that will be the next target. Keep in mind however, that the Euro makes up about 40% of this index, and as such problems in Europe can cause spikes in this market. Nonetheless, we think the direction for the US dollar is down longer-term, and the central banks around the world will continue to force investors to look for yield elsewhere.
The US treasury markets will be very undesirable as well, as the yields aren't really much to speak out. The MBS market on the other hand will be attractive to traders as they come in to support the mortgage markets in general.
As long as there is no meltdown in the European Union, we think that selling rallies in this contract will more than likely be the way forward. We think that a break in the lows from this previous week would also be a nice selling opportunity as we wiggle our way down to 76 or sell. However, it is fairly easy to make the argument that this move has been a bit overdone, and the bounce could be coming in the short-term.