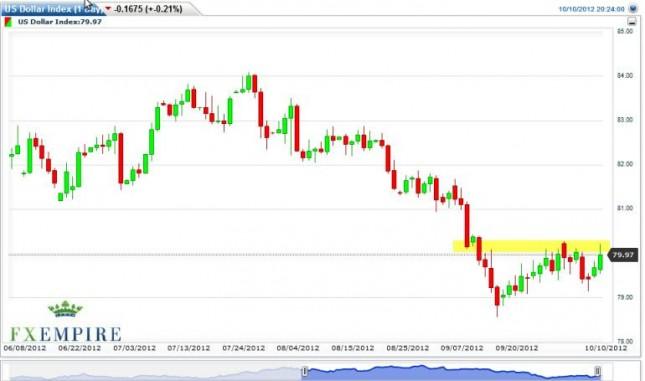 The US Dollar Index rose during the session on Wednesday as fear crept back into the markets. Stock exchanges fell, as did many of the commodities. The one commodity area that did do fairly well however, was the precious metals sector, and as such this makes us think that this is a fear trade, not so much a strengthening of the Dollar for fundamental reasons.
Looking forward, we see the area just above as a massive resistance level it has to be overcome in order for the buyers to take control again. The 80 handle is that significant in our opinion. This means that if we get above it and the highs from the Wednesday session we are more than comfortable buying this futures market again. We think that the 81 handle will be the first target that the market will aim for. If we can get above 81, we see resistance at 82. If we get beyond that level, we think this market goes much higher.
With the recent action that we have seen in the various risk assets around the world, we actually think that we could be in the middle of some type of reversal. This would bode well for the US dollar, and very poorly for the risk year commodity currencies. The Euro should continue to drag as the trouble in that region seems to be a never-ending mass of news flow. While there hasn't necessarily been hugely bad news out of that region this week, it should be noted that the finance ministers have been meeting in Luxembourg, and there hasn't been anything good come out of that meeting. The markets simply cannot stand to be disappointed yet again.
Because of this, we feel that traders will continue to run towards the US dollar as a safe haven. This market is an excellent barometer of what's going on in the Forex world, and as such you can use it for a way to keep track of whether or not the risk year currency should do well. On a break of the highs from the Wednesday session, we are buying. On a break of the Monday session lows, we would then be selling.