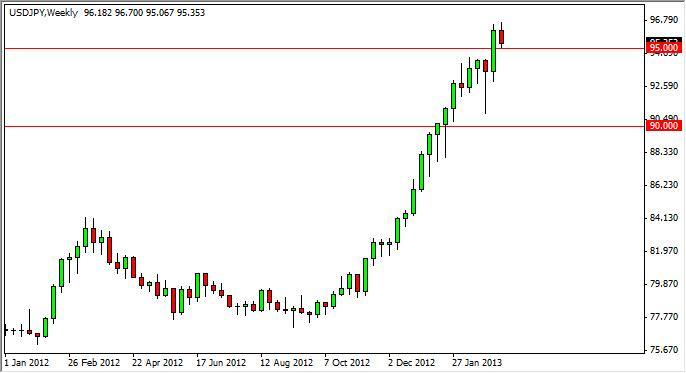 After initially rising during the week, the USD/JPY pair fell to test the 95 handle for support on Friday. This market has recently broken above that level, and a pullback of this magnitude is hardly concerning. After all, we know that the Bank of Japan continues to work against the value of the Yen, and that the 95 level had been resistance previously. This is classic technical analysis, as the "ceiling should become the floor" going forward.
A simple retest of the 95 handle frees up the market to go higher. In fact, we think that this market will eventually hit the 98 handle, as the pair is so bullish. However, we would also suggest that support runs all the way down to the 94.50 level, so a move below the 95 handle it can't be ruled out.
Looking at this chart though, it's obvious which direction you want to be an, as selling would be going against the overall trend. Quite frankly, we would love to see this pair pullback drastically, but we do not expect to see that happen anytime soon. This is essentially a buy-and-hold type of market, and we think it will be very reminiscent of the early 2000s when the key to making money in Forex was to simply sell the Yen. With this in mind, we are buying this market every time it dips going forward, or at least until the Bank of Japan decides to stop its newfound desire of asset purchases.
Another thing to consider is the fact that the Federal Reserve may begin to cut back on quantitative easing sometime later this year. If that's the case, the difference in bond yields between the 10 year U.S. Treasury note and the 10 year JGB should continue to propel money out of Japan, and into the Unites States. After all, this is a yield-starved environment we live in, and every little bit helps. The pair has a long history of trading in favor of the higher-yielding bond market, and the US is most certainly going to be that for the foreseeable future.