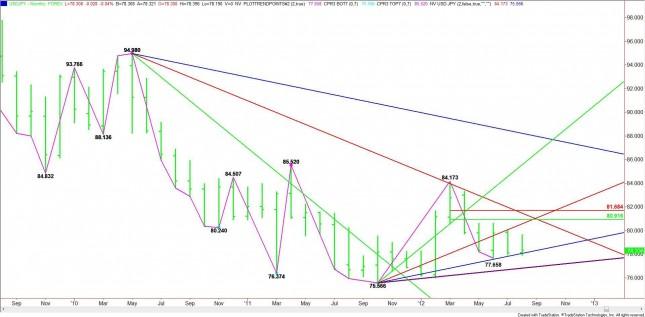 For the second consecutive month, the USD/JPY posted an inside move on the monthly chart. This chart pattern typically indicates impending volatility. Since reaching a bottom in July at 77.66, the Forex pair has traded sideways as interest rates in Spain and Italy improved and global equity markets strengthened. Additionally, some interest rates in the U.S. also rose, encouraging traders to seek the higher U.S. yields, putting pressure on the lower yielding Japanese Yen.
Besides holding the old bottom at 77.66, the USD/JPY is also finding support on an uptrending Gann angle at 78.32 this month. A break through this level could mean a test of 76.94. On the upside, downtrending Gann angle resistance is at 80.98 this month.
Before the market even tests this price, it much take out a 50% price level. Based on the short-term range of 84.17 to 77.66, this price is at 80.91, followed by the Fibonacci price level at 81.68.
Talk is circulating that the Bank of Japan is poised to implement moves to weaken the Japanese Yen. The plan is to ease monetary policy by buying longer-dated government bonds and foreign assets. This action will be an attempt to disengage the Japanese economy from the devastating effects of deflation.
The strong Japanese Yen is making it hard for the economy to beat deflation, making monetary easing necessary. The slowdown in the global economy is hurting Japanese exports while consumer spending is beginning to show signs of weakening as the effects of government stimulus have begun to wear off. The vicious cycle of deflation is forcing exports to cut wages and prices of goods and services. This is helping to make the deflation situation worse.
With exports dropping in July and demand in Asia falling, the BOJ may be forced to take bolder steps to drive the Yen lower. This has to come in the form of more aggressive monetary policy moves. Critics cite the slow action by the central bank for worsening the situation. After easing in February and April, the BOJ has been inactive, choosing instead to use "verbal" intervention in an attempt to weaken the currency. Recent comments suggest that the central bank will act again only if risks to the economy heighten sharply.
A break through the support line at 78.32 this month may force the hand of the central bank. This could spike the USD/JPY higher. A move by the BOJ could help put in a bottom, but the market will still have to break through the resistance at 80.91 to 81.68 before breaking out to the upside.