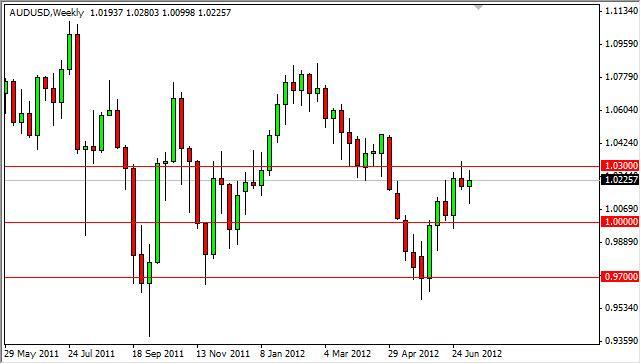 The AUD/USD pair fell for most of the week over the past five sessions as the bottom of last week's shooting star was violated to set off sell orders however, by the time we finished this past week, we saw a massive "risk on rally" in various assets around the world, the Australian dollar included. Now we have an interesting set up as last week was a shooting star, and this past week has been a hammer. In other words, this chart is starting to look more and more confused.
The easiest way to play a trade like this is to simply look at the two candles as forming a consolidative rectangle. In other words, look at the 1.035 level which was the top of the shooting star as the resistive top. On the other hand, a look at the bottom of the hammer at the 1.01 level as support. The longer-term trader, you'll need to see a breakout either above the resistance level or below the support level in order to even consider trading.
In the meantime, it might be best to avoid this pair as it does suggest that we may have a lot of choppiness in the near term. While we know that it's kind of a wide range to pay attention to, it will serve you better than trying to micromanage the entry based upon shorter time frames.